Josh Kerr takes out Single-fin Division at Four Seasons Maldives Surfing Champions Trophy
---
---
Kuda Huraa,  Maldives (Thursday, August 9, 2018) -  The 2018 Four Seasons Maldives Surfing Champions Trophy has kicked off in stunning conditions with Australian Josh Kerr taking out the opening round single-fin division. Sultans turned it on for the opening day of the world's most luxurious surfing event with clean 4-to-6 foot waves rifling down the reef.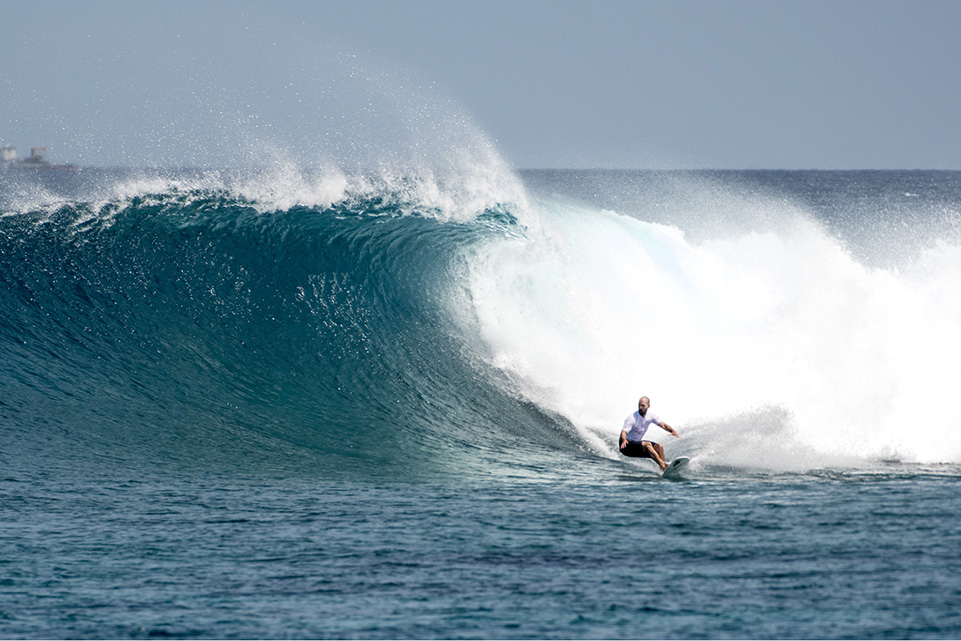 In the single-fin final, Kerr took on C.J. Hobgood (USA) with the two former WSL Championship Tour (CT) competitors trading waves, both gliding and jiving on their retro boards to each post solid heat totals. 2001 WSL Champion Hobgood led the heat with a minute left until Kerr took off on a medium-sized set and ripped into it, even landing a technical air-reverse to take the lead and the division's win.
"That wasn't the best air but it did the job so I'll take it," Kerr said. "I've always thought about getting the call-up to this event, so to be here now is amazing and to win the single-fin is too good. I was most nervous about the single-fin because the waves were way bigger than what I thought my board could deal with but it turned on in the conditions perfectly.  This has been such a blast from the past hanging out with all of these guys; we haven't seen much of each other over the last few years so this has been such a fun catch-up. And we're doing it here at literally the most luxurious surfing event in the world with our families – I feel so spoiled."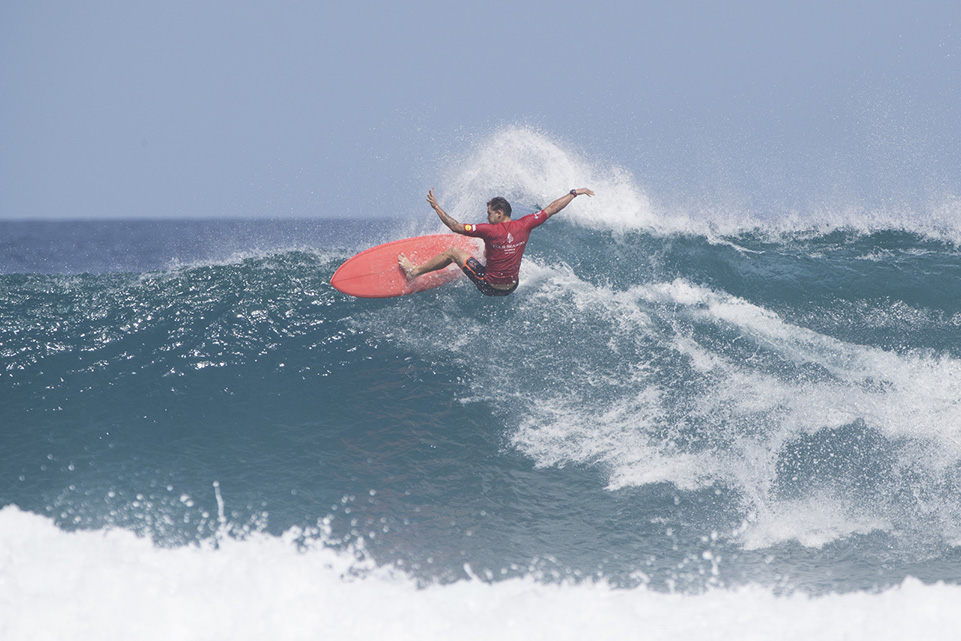 Hobgood is the veteran of the event having competed here last year, where he also finished runner-up in the single-fin division. The Floridian goofy-foot was destined for the final with some epic performances throughout the day particularly in his semifinal match-up with Alejo Muniz (BRA) which came right down to the wire. Hobgood continued this form into the final but was overcome by a rampaging Kerr in the dying seconds of the day. 
"The waves are pumping today – it's the best it's been all week," Hobgood said. "It's so good to be back here and I definitely felt like the guy who knew what I was in for but still couldn't hold in my excitement. I rode that same board last year and rode it a few times recently so was feeling really good on it. It was always going to be tough in that final coming up against Josh (Kerr), I feel like he will be the guy to beat here this week."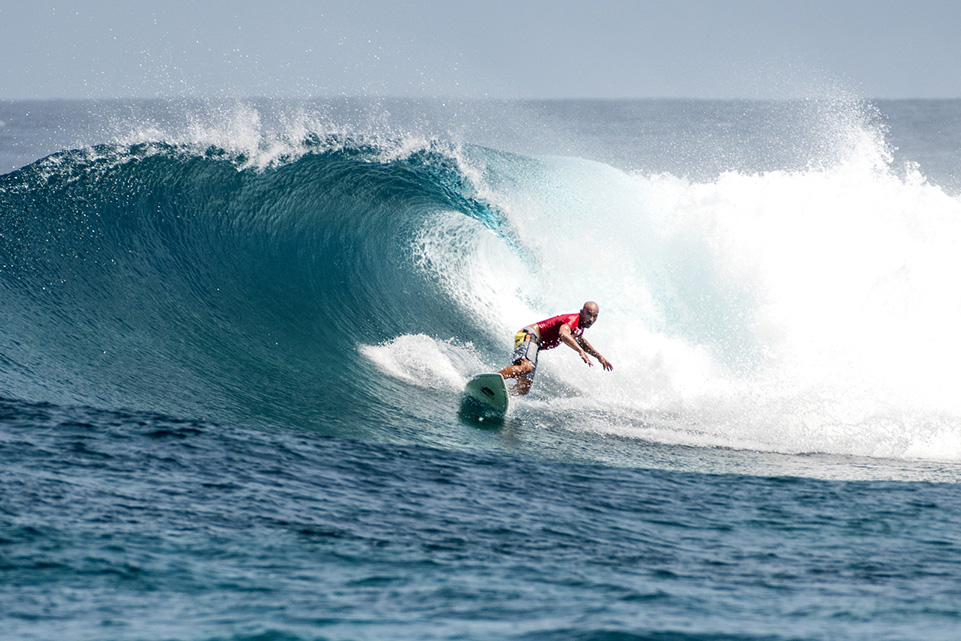 On his way to the single-fin final, Kerr dismantled former CT competitor Freddy Patacchia Jnr (HAW) in semi-final 2. Patacchia was on borrowed equipment after missing the memo and forgetting to pack his own single-fin. The Hawaiian powerhouse was unfazed, making the most of an empty line-up in pumping surf at Sultans. 
"I think I must have missed an email or something because I totally forgot to bring my single-fin," Patacchia said. "Luckily there was one here that I could borrow and it worked all right. I was just having a blast out there today. My career was spent surfing to criteria on a particular board so today I surfed to what I think the criteria on a single-fin should be and although I didn't win I had so much fun. These are the best waves I've surfed in ages so I'm so stoked."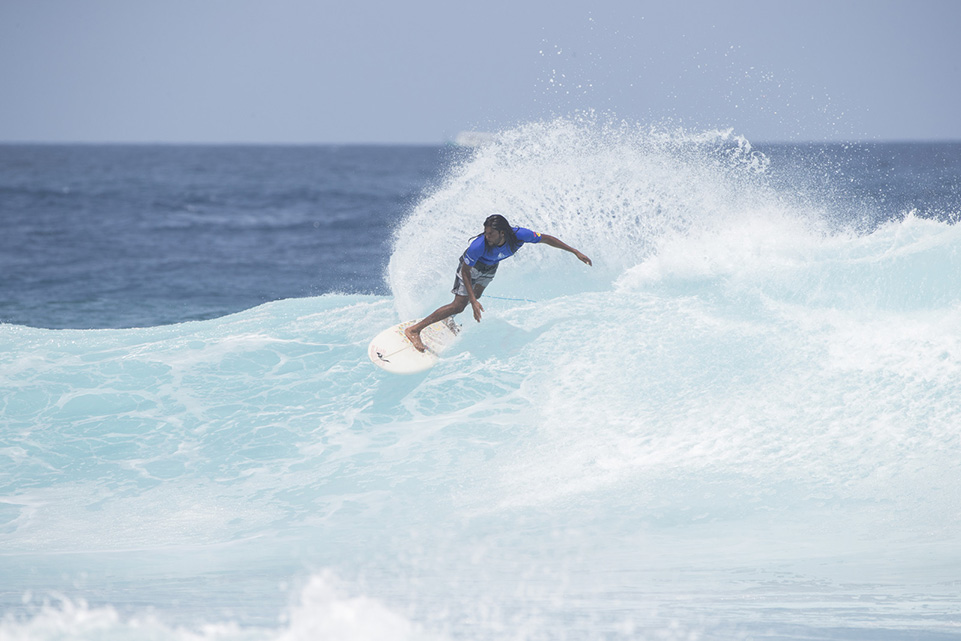 The opening heat of the event saw a great showing from local wildcard Abdulla 'Fuku' Areef. Although he was unable to progress into the single-fin semi-finals, he put on an epic show at one of his local breaks, surfing a single-fin for one of the first times. 
Currently sitting within reach of re-qualifying for the Elite CT, Alejo Muniz (BRA) is definitely the most in-tune competitor at this year's event. Having just hopped on a single-fin for the first time two days ago, Muniz looked in excellent shape, narrowly getting edged out by eventual division runner-up C.J. Hobgood. 
Due to a missed flight, Hawaiian surfing icon Bruce Irons (HAW), unfortunately, had to withdraw from the single-fin division but is hopeful to arrive before the twin-fin division gets underway in the coming days.
Stay tuned as we head towards the 80s and our competitors get loose in the twin-fin division, which will most likely kick off tomorrow.
Single Fin Division Results 
1. Josh Kerr (AUS)
2. C.J. Hobgood (USA)
3. Alejo Muniz (BRA) equal with Freddy Patacchia Jnr (HAW)
4. Abdulla Fuku Areef (MDV) equal with Bruce Irons (HAW)
2018 FS Maldives Surfing Champions Trophy Leaderboard
Josh Kerr (AUS) 1000pts
C.J. Hobgood (USA) 900pts
Alejo Muniz (BRA) 800pts
Freddy Patacchia Jnr (HAW) 800pts
Abdulla Fuku Areef (MDV) 700pts
Bruce Irons (HAW) 700pts
---
Surfing Champions Trophy Grand Final
In pulsing, overhead conditions at Sultans today Australian Josh Kerr claimed Four Seasons Maldives Surfing Champions Trophy for the second year running.
Thruster Highlights
Four Seasons Maldives Surfing Champions Trophy thruster division highlights featuring Kai Lenny, Matt Wilkinson, Joel Parkinson, Josh Kerr and local wildcard Pele
Twin-Fin Highlights
Parko Twin Fin surfing in the Maldives at the Four Seasons Maldives Surfing Champions Trophy
Maldives Seaplane Surfing with Joel Parkinson, Kerzy, Wilko, Kai Lenny and Pele
Lay day adventures at the Four Seasons Maldives Surfing Champions Trophy 2019
Single Fin Highlights
In a rematch of the 2012 Pipeline Masters final, that served as Australian Joel Parkinson's world title coronation, Parkinson came up against lifelong friend and SCT defending champion, Josh Kerr who took the win.
Opening Ceremony Highlights
9th edition of Four Seasons Maldives Surfing Champions Trophy is back on!