Josh Kerr continues his dominance at the Four Seasons Maldives Surfing Champions Trophy
---
---
Kuda Huraa, Maldives (Friday, August 10, 2018) - Australia's Josh Kerr has made it two from two at Four Seasons Maldives Surfing Champions Trophy winning the second round twin-fin division in pumping 4-to-5 foot surf at Sultans. Kerr is now sitting pretty for a Finals Day berth at the world's most luxurious surfing event.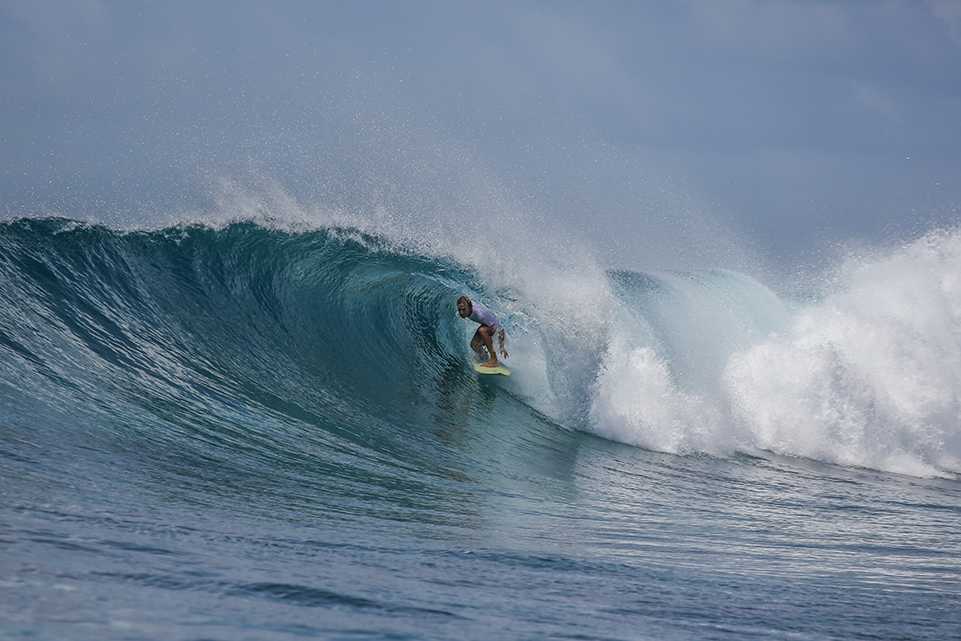 In the twin-fin final, Kerr faced off with an in-form Alejo Muniz (BRA) who had dominated his way through to the final. It was a match-up of the two standouts all day, but Kerr saved his best until last, scoring an epic heat total of 17.26, including a near perfect 9.63 (the highest of the event so far). The judges rewarded the former Championship Tour (CT) competitor for his impressive combination of tube riding, power turns and smooth, flowing style.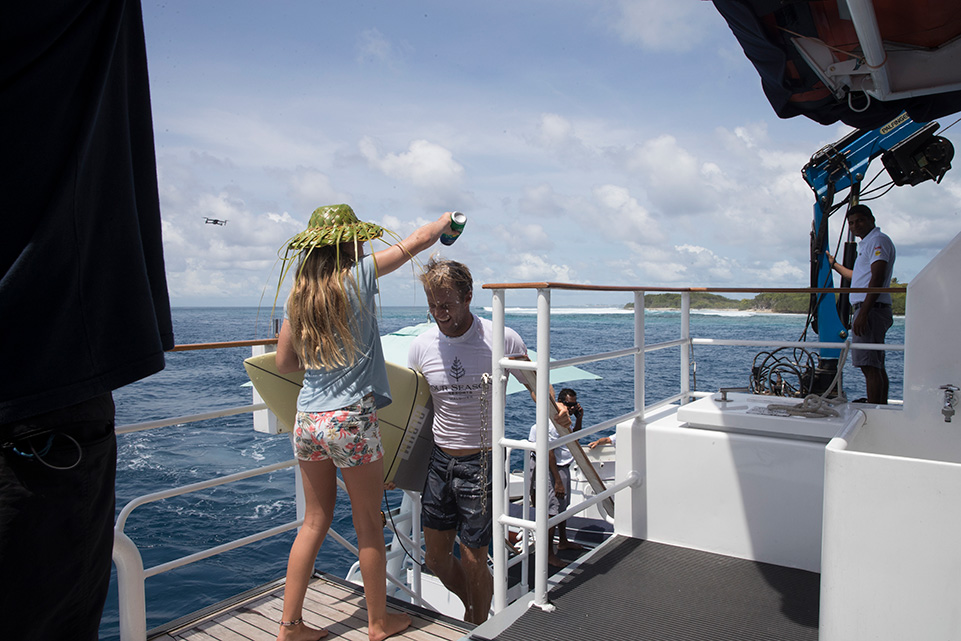 "I've been surfing on a twin-fin so much recently that I was almost more nervous surfing today because it was expected that I'd do well," Kerr said. "Fortunately, from my first heat today I fell into a good rhythm. Everything felt good, the waves, my board, my surfing, the setting – it all felt right. I was so pumped to get out there when we rocked up today, the surf was amazing, just clean and perfect. Coming up against Alejo was always going to be a tough battle. He is still living and breathing competitive surfing on the QS so he is probably the most prepared competitor here plus he is ripping so hard. I just seemed to have a lot going my way. I'm stoked and now I'm about to go and share a few more waves with my daughter – we're living the dream."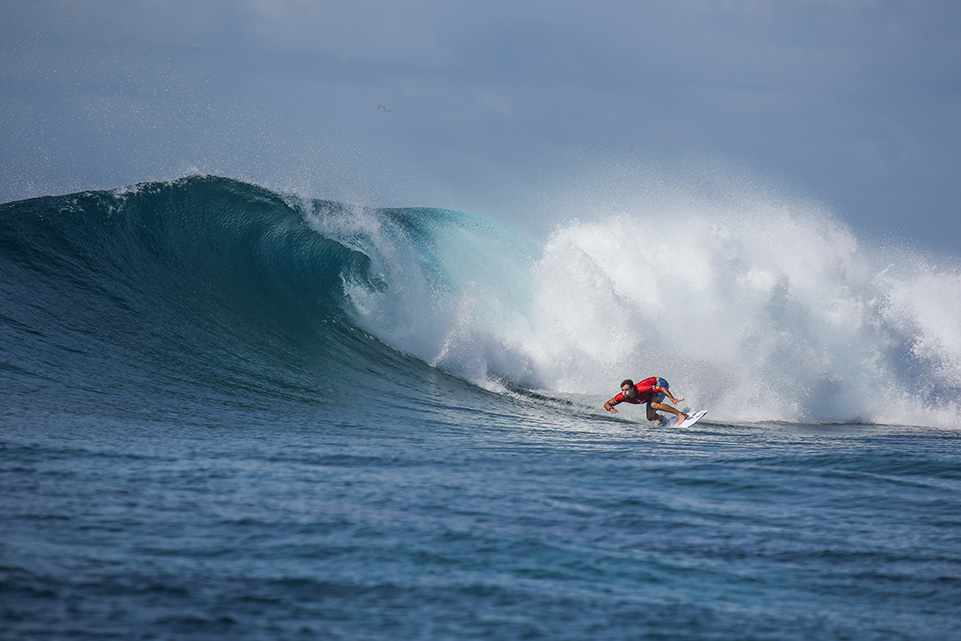 The youngest competitor in the field, Muniz is currently sitting in 7th place on the Qualifying Series (QS) with the major goal of re-qualifying for the elite Championship Tour (CT). With this being his current mindset, his competitive tenacity is evident and his performances have been impressive all through the event. Although he was a standout in the twin-fin division, he was unable to stop Kerr in the final but was still over the moon to surf against one of his heroes in perfect waves.
"Josh has always been one of my favourite surfers so sharing a twin-fin final with him was so cool," Muniz said. "I have barely surfed on a single-fin or a twin-fin my whole life so it has been so cool surfing on these boards since being over here – I think I'll be surfing them a lot more now. They are so different and fun. I didn't expect all of these guys to be that competitive and thought I might have the upper hand as I still compete, but when they paddle out, they have the fire in their eyes which is really cool to see. I'm just having an amazing time here with my family, it's pretty much a honeymoon for my wife and I as we got married two weeks ago. Except this honeymoon has perfect waves with no one else out, which is amazing."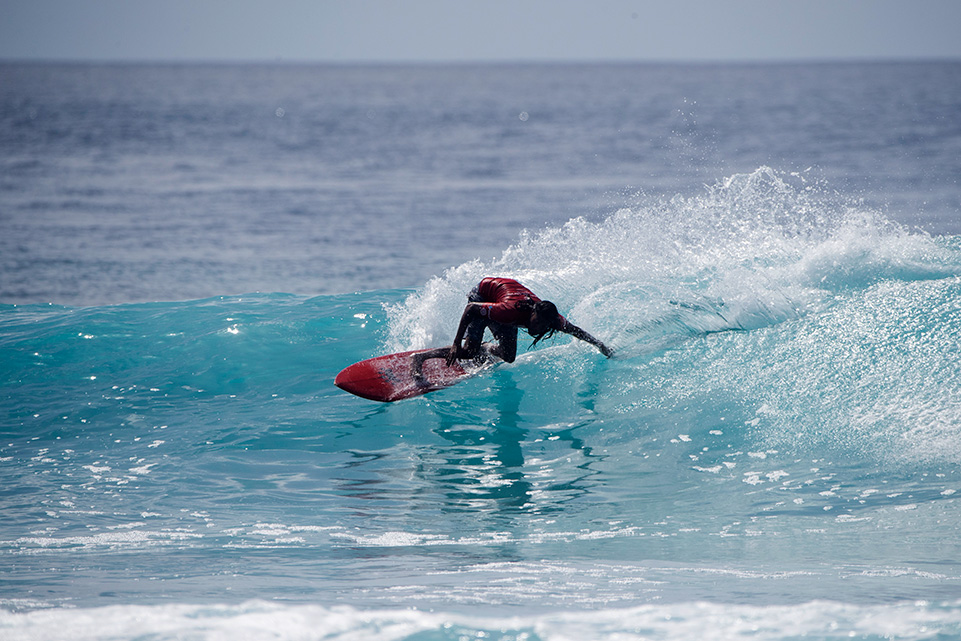 Local wildcard Abdulla 'Fuku' Areef (MDV) had the tough task of taking on eventual winner Josh Kerr in the second twin-fin semi-final. The Maldivian surfing legend came short of taking down Kerr but was stoked to have the experience at one of his favourite home breaks.

"I grew up watching these guys on surfing movies so it is so cool competing against them and surfing with them all week," Areef said. "They are all so cool and down to earth which is nice to see. I am just really soaking it all up and not worrying about the results. I love the wave at Sultans so it's cool to get the line all to ourselves. It's an incredible opportunity for me and I'm so grateful to Four Seasons Kuda Huraa and Tropicsurf for this."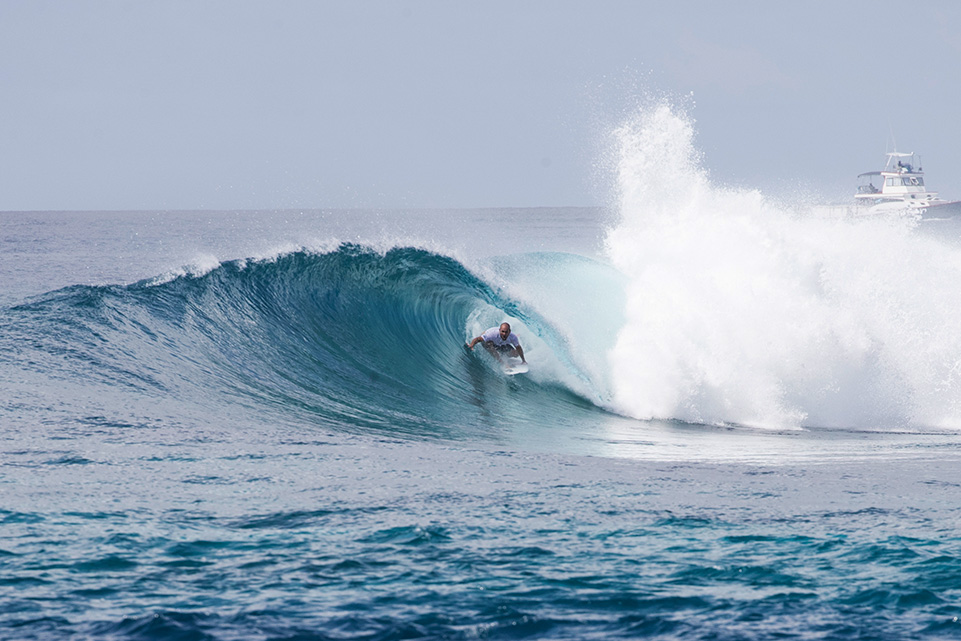 The opening heat of the day was totally stacked with 2001 WSL Champion C.J. Hobgood (USA) coming up against Alejo Muniz and fellow former CT competitor Fred Patacchia (HAW). All three surfers had to surf out of their skin to make the heat and, in the end, it was Patacchia who was eliminated in 5th place. Freddy will be back when competition resumes with the thruster division. Floridian goofy-foot Hobgood eventually went down to Muniz in the semi-finals finishing the twin-fin division in equal 3rd.

Stay tuned as Four Seasons Maldives Surfing Champions Trophy moves into the Finals Day with competitors going hi-fi in the thruster division.
Twin Fin Division Results 
1.    Josh Kerr (AUS)
2.    Alejo Muniz (BRA)
3.    C.J. Hobgood (USA) equal with Abdulla Fuku Areef (MDV)
5.    Freddy Patacchia Jnr (HAW)

2018 FS Maldives Surfing Champions Trophy Leaderboard

Josh Kerr (AUS) 2000pts
C.J. Hobgood (USA) 1700pts
Alejo Muniz (BRA) 1700pts
Freddy Patacchia Jnr (HAW) 1600pts
Abdulla 'Fuku' Areef (MDV) 1600pts
---
Surfing Champions Trophy Grand Final
In pulsing, overhead conditions at Sultans today Australian Josh Kerr claimed Four Seasons Maldives Surfing Champions Trophy for the second year running.
Thruster Highlights
Four Seasons Maldives Surfing Champions Trophy thruster division highlights featuring Kai Lenny, Matt Wilkinson, Joel Parkinson, Josh Kerr and local wildcard Pele
Twin-Fin Highlights
Parko Twin Fin surfing in the Maldives at the Four Seasons Maldives Surfing Champions Trophy
Maldives Seaplane Surfing with Joel Parkinson, Kerzy, Wilko, Kai Lenny and Pele
Lay day adventures at the Four Seasons Maldives Surfing Champions Trophy 2019
Single Fin Highlights
In a rematch of the 2012 Pipeline Masters final, that served as Australian Joel Parkinson's world title coronation, Parkinson came up against lifelong friend and SCT defending champion, Josh Kerr who took the win.
Opening Ceremony Highlights
9th edition of Four Seasons Maldives Surfing Champions Trophy is back on!