Reigning Surfing Champions Trophy Winner Josh Kerr Returns
Kuda Huraa, Maldives, 7 April 2019 – It's that time of year again when Four Seasons Kuda Huraa surf crowd commences the countdown to the world's most luxurious surfing event, which will take place from 5 – 12 August 2019.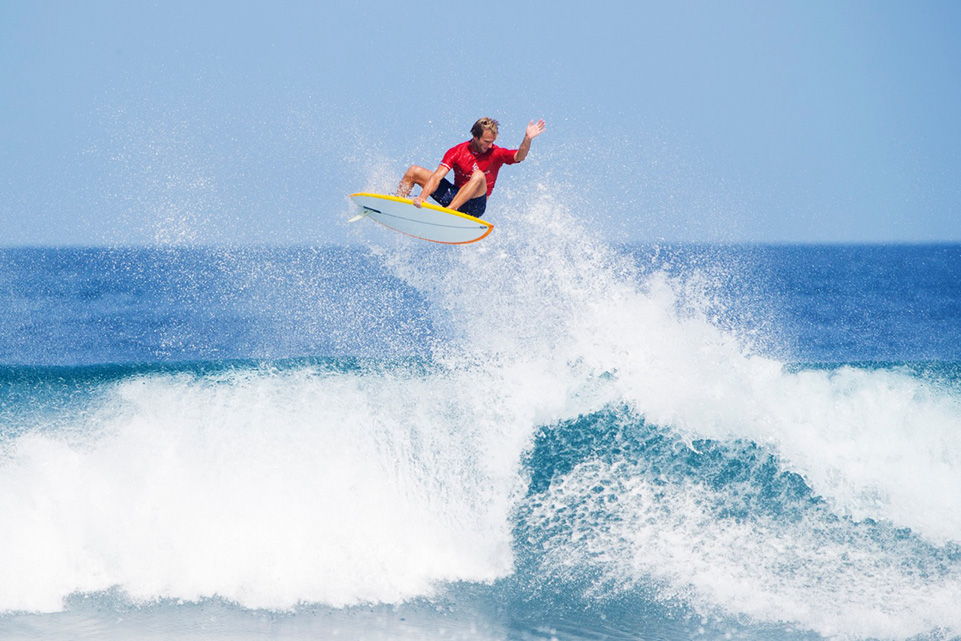 Josh Kerr flying high on his single fin during the 2018 Four Seasons Maldives Surfing Champions Trophy
---
And with 2018's champion – and surf celeb – Josh Kerr (AUS) confirmed to defend his title, the 9th annual Four Seasons Maldives Surfing Champions Trophy looks on track to set the Maldivian waves alight once again this summer.
2018's exclusive invitational event was a tightly fought affair with epic displays from each of the riders before Kerr took the victory in a Grand Finale matchup against Alejo Muniz (BRA).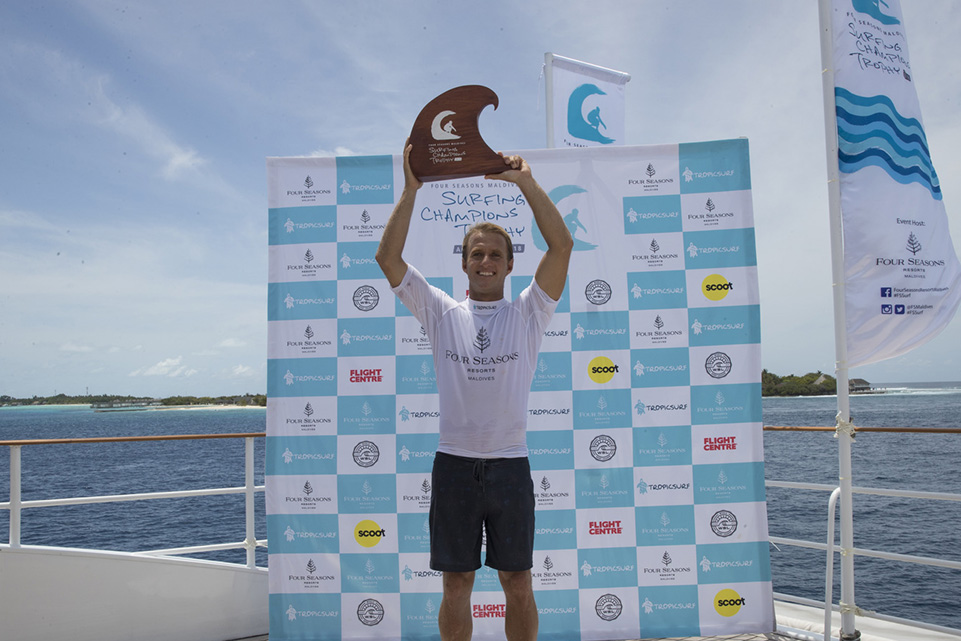 A surf competition like no other, the Surfing Champions Trophy determines a surfer's heat time based on their age, and tests skill across three different divisions: single-fin, twin-fin, and triple-fin thruster, challenging its elite line-up of six former world champions to perfect a variety of disciplines to take the top spot.
Speaking after last year's triumph, Kerr said,
---
…
"Last year was such an incredible event to be involved with.
"I never thought I'd get so barrelled here in the Maldives! The concept of this event is really cool;
to test surfer's depth of talent across craft from different eras in surfing is awesome.
I can't wait to return to the Maldives and share this experience with a new group of contestants.
Oh and my family are super excited to come back to Kuda Huraa,
they absolutely love it there."
…
---
Hailing from Tweed Heads, NSW, Australia, Josh Kerr first took to the waves on a bodyboard, aged seven, graduating to his first surfboard three years later. He was winning airshows by 16, quickly building a reputation for his trademark aerial flips, charging barrels and superior tail wafts – even inventing a surfing manoeuvre he called the 'Kerr-upt Flip'.
He retired from the CT tour in 2017, following an illustrious career with highlights including 2015 Big Wave Tour winner and multi-winning Airshow World Champion with his best ASP Tour finishes being 2nd in 2014 Drug Aware Margaret River Pro and 3rd in 2014 Quiksilver Pro Gold Coast.
At Four Seasons Resort Maldives at Kuda Huraa he'll be battling it out for serious inner-circle surfing kudos and USD 25,000 prize winnings, while enjoying all the spoils of one of the Maldives' best-loved Resorts, which plays host to the event, competitors, judges and TropicSurf partners, plus a packed house of lucky Kuda Huraa guests.
Commenting on this year's competition, Event Co-ordinator Mark Winson of Tropicsurf said,
---
…
"This is an awesome experience for anyone passionate about
competitive surfing, with a chance to see a unique world-class
competition while enjoying the modern luxury of
Four Seasons Resort Maldives at Kuda Huraa.
A true test of surfing skill and adaptability,
you can definitely expect some surprises as our diverse
line-up of contestants take to the waves."
…
---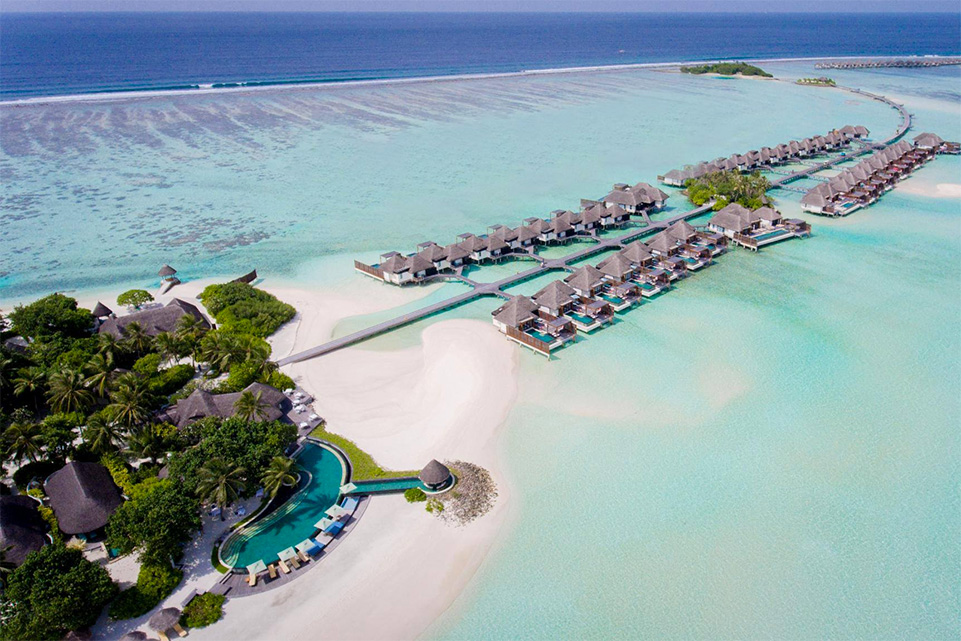 Those quick to get in on the action can take advantage of the Resort's tournament-specific surf package, Surfing Champions Trophy 2019, which includes: 10 per cent off Bed & Breakfast rates; daily breakfast; VIP event passes (held on board the Maldives' ultimate surf cruiser, Four Seasons Explorer); a nightly cocktail hour with the Championship pro competitors; Surf Lagoon Lessons for two (option for advanced surfers to upgrade to Ocean Transition classes); complimentary daily surf reports with the latest conditions and event updates; daily yoga sessions; use of stand-up paddleboards and a 60-minute massage at the Island Spa. To secure your spot at the world's most luxurious surfing event book online here, email reservations.mal@fourseasons.com or call + 960 66 00 888.
Has Kerr got what it takes to retain his Championship title? The heat is on!
For more information visit:  www.fourseasons.com/maldiveskh
For media enquiries about the annual Surfing Champions Trophy at Four Seasons Kuda Huraa, please contact: 
Juliana Ang
Director of Public Relations
Four Seasons Resorts Maldives
Tel:       (65) 6514 8281
Fax:      (65) 6835 9839
Email:   Juliana.ang@fourseasons.com
Web:   www.fourseasons.com/maldives
Instagram: http://instagram.com/FSMaldives
Facebook: http://www.facebook.com/FourSeasonsResortsMaldives
Twitter: http://twitter.com/FSMaldives
---
Surfing Champions Trophy Grand Final
In pulsing, overhead conditions at Sultans today Australian Josh Kerr claimed Four Seasons Maldives Surfing Champions Trophy for the second year running.
Thruster Highlights
Four Seasons Maldives Surfing Champions Trophy thruster division highlights featuring Kai Lenny, Matt Wilkinson, Joel Parkinson, Josh Kerr and local wildcard Pele
Twin-Fin Highlights
Parko Twin Fin surfing in the Maldives at the Four Seasons Maldives Surfing Champions Trophy
Maldives Seaplane Surfing with Joel Parkinson, Kerzy, Wilko, Kai Lenny and Pele
Lay day adventures at the Four Seasons Maldives Surfing Champions Trophy 2019
Single Fin Highlights
In a rematch of the 2012 Pipeline Masters final, that served as Australian Joel Parkinson's world title coronation, Parkinson came up against lifelong friend and SCT defending champion, Josh Kerr who took the win.
Opening Ceremony Highlights
9th edition of Four Seasons Maldives Surfing Champions Trophy is back on!