MALDIVIAN SURFERS SOAR TO WORLD-CLASS HEIGHTS
Hotly anticipated to be the country's biggest ever showcase of Maldivian surfing, the inaugural Four Seasons Maldives Domestic Champions Trophy will be held at Four Seasons Resort Kuda Huraa from August 27 to September 2, 2012, alongside the Four Seasons Maldives Surfing Champions Trophy, a showdown between six ex-world champions.
Organised by luxury surf pioneers Tropicsurf, the Four Seasons Maldives Domestic Champions Trophy will be run from the Four Seasons Explorer catamaran. The domestic competition will see local surfers competing under the same world-class standards as the adjoining world champions' event, with equal commentary, computer scoring and ASP judging criteria.

"We're delighted to be given the opportunity to showcase our best local talent alongside living legends such as Tom Curren, Mark Occhilupo and Martin Potter," commented Ismail Haleem of the Maldivian Surfing Association. "The Maldives is fast gaining a reputation as one of the world's best surfing destinations and we're looking forward to showing the world that we've got surfing talent to match."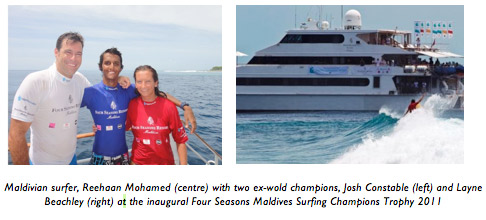 The Maldivian surfers will be selected by the Maldivian Surfing Association prior to the event via a local competition. Each will then compete in four-man event heats to qualify for the final – a MVR 25,000 showdown for the title of Four Seasons Maldives Domestic Champions Trophy 2012.
The domestic final will place immediately prior to the Surfing Champions Trophy final on the last day of competition, in a move aimed to give equal billing to local stars. The only difference in the two competitions lies in board selection: local surfers will compete on conventional thruster boards, whereas the world champions will tackle three boards ranging from retro single-fins to contemporary triple-fins.
Despite not featuring in last year's inaugural event, Maldivian surfers were still very much front of mind. The 2011 victor, Mark "Occy" Occhilupo (Aus), dedicated his win to the late Tony Hussein Hinde – considered to be "the father of surfing in the Maldives" – who looked after Occhilupo on his first visit to the country over a decade ago.
Occy will be returning to this year's Surfing Champions Trophy event to defend his crown. Joining him will be Tom Curren (USA) – three-time world champion and true soul surfer; Martin 'Potz' Potter (SA) – world champion, aerial-pioneer and all-round Mr Cool; longboard master Phil Rajzman, the only Brazilian in history to become world champion of the elite ASP World Tour; Damien Hardman (Aus) – two-time world champion; and 2005 Women's World Champion, Chelsea Hedges (Aus) .
Guests booking Kuda Huraa's all-inclusive four – or seven-night Champions Trophy package – available from August 27 to September 2 only – can get right on top of the action with competition day passes aboard the vessel plus three half-day surfing passes with Tropicsurf. Back on land, they'll also get to rub shoulders with their surfing heroes and experience a level of intimacy and camaraderie unique in competition surfing.

Limited day passes will be available (at a fee) for non-package guests/members of the public to view the event from Four Seasons Explorer. 
Call + 960 66 00 888 for enquiries and rates.
---
Surfing Champions Trophy Grand Final
In pulsing, overhead conditions at Sultans today Australian Josh Kerr claimed Four Seasons Maldives Surfing Champions Trophy for the second year running.
Thruster Highlights
Four Seasons Maldives Surfing Champions Trophy thruster division highlights featuring Kai Lenny, Matt Wilkinson, Joel Parkinson, Josh Kerr and local wildcard Pele
Twin-Fin Highlights
Parko Twin Fin surfing in the Maldives at the Four Seasons Maldives Surfing Champions Trophy
Maldives Seaplane Surfing with Joel Parkinson, Kerzy, Wilko, Kai Lenny and Pele
Lay day adventures at the Four Seasons Maldives Surfing Champions Trophy 2019
Single Fin Highlights
In a rematch of the 2012 Pipeline Masters final, that served as Australian Joel Parkinson's world title coronation, Parkinson came up against lifelong friend and SCT defending champion, Josh Kerr who took the win.
Opening Ceremony Highlights
9th edition of Four Seasons Maldives Surfing Champions Trophy is back on!