Two-time World Champion Damien Hardman wins single fin division
On day one of the competition, all five former world champions dueled it out in the single-fin division in beautiful four-foot, offshore surf at Sultan's Point, Maldives.
After a solid morning of competition, the final featured Hardman versus Potter. From the outset it was as if the two rivals hadn't missed a beat from their heyday. Potter surfing with the raw aggression that made him one of the most feared surfers in his heyday, while Hardman applied his calculated, strategic and vertical approach that led him to two world titles. After a back and forth duel, ultimately it was Hardman that edged out Potter for the single-fin victory.

"I thought it would have been more relaxed out there but it reverted to the old days, it was a bit scary," said Hardman post single-fin victory.
"Everyone got competitive, but it was good surfing against those guys again, they are all still surfing great,"

"And I finally got 'Pottz' back from when he beat me at Bells Beach in 1989, that was the last time we competed against each other," added 46 year-old Hardman.
Hardman, who claimed USD3000 for the win joked.

"It's the first prize money I have won in 12 years so I can put pro-surfer on my departure card now."
Potter, 46, who held the lead with five minutes remaining, admitted to a priority error which Hardman utilized to lock in a 7.10 score and claimed victory.

"You can never make a mistake when surfing against 'Dooma', he will capitalize on it every time," said Potter, who won USD1000 for the runner-up placing.
Enroute to the final, Hardman narrowly edged out a fluid Curren in semifinal one
"It was like old times, it was really good, except that I lost my heat," said Curren.
"I was really trying to surf like Cheyne Horan, back in 1981 he had his designs really together so I was trying to do the same top to bottom surfing as he did back then," added Curren.
The high scoring second semi saw Potter take an early lead with a heat high 9.07 ride. Occhilupo quickly answered back with an 8.10 but fell short on the siren to end his winning run in the Maldives.
"It wasn't the result I was hoping for but it was good to see 'Dooma' get a win after his run of bad luck here last year," said Occhilupo.
"We still have a few divisions to go so it's not over yet," added Occhilupo.

The inaugural event, held in 2011, was a clean sweep for 'Occy' who won all three divisions of Single Fin, Twin Fin and Thrusters, before defeating world longboard champion Josh Constable (Aus), 30, in the Grand Champions Final to take home $19,000 of the $25,000 purse on offer.

The Four Seasons Explorer luxury catamaran provided the ultimate headquarters for the day as surf guide organization Tropicsurf coordinated the iconic tournament. With three-decks and 39 metre (128 foot) on offer for competitors, event crew and spectators, luxury was the call of the day.
Starting the event was the single-fin era (1970's), to be followed on day two, the twin-fin (late '70s and early '80s), and ultimately finished by the Thruster ('80s onwards) division. With a $25,000 USD prize purse up for grabs, the all-star cast have spent their down time living it up at the luxurious Four Seasons Resort Kuda Huraa.
On his road to his three world championships, Curren's clashes with young, upstart Mark Occhilupo became the stuff of legend. To this day, any surfer worth his or her salt has these shattering moments engrained in the lore of the sport as they were plastered across magazine pages and immortalized in videos.

Unfortunately 2005 ASP Women's World Champion Chelsea Hedges was forced to withdraw after suffering a collapsed lung while training for the event.
The surf forecast looks promising throughout the week-long waiting period and the Four Seasons Maldives Surfing Champions Trophy looks to add to its already historic legacy.  Tropicsurf organizers will reassess conditions again tomorrow morning for a 7am call for the Twin Fin Division.
Four Seasons Maldives Surfing Champions Trophy 2012 Single Fin results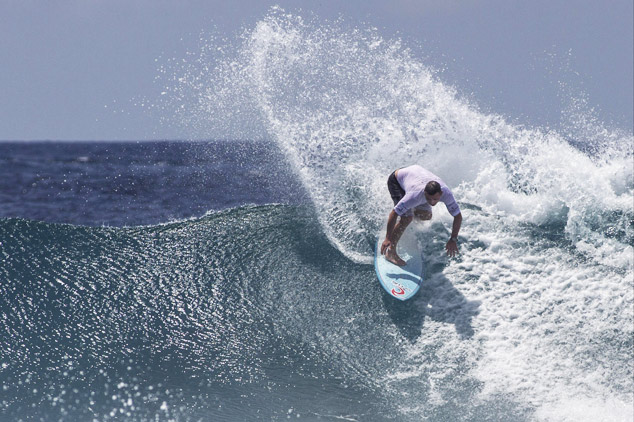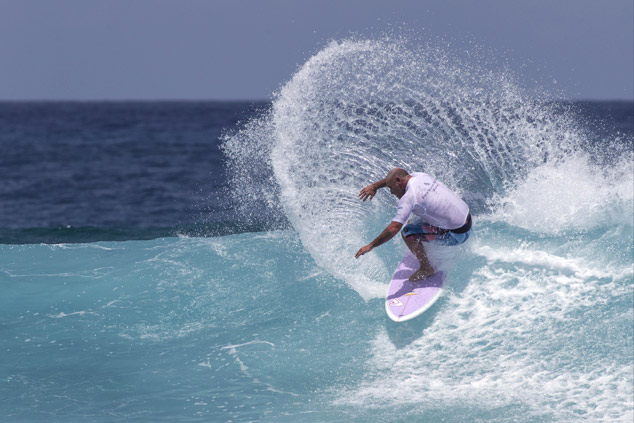 ---
Surfing Champions Trophy Grand Final
In pulsing, overhead conditions at Sultans today Australian Josh Kerr claimed Four Seasons Maldives Surfing Champions Trophy for the second year running.
Thruster Highlights
Four Seasons Maldives Surfing Champions Trophy thruster division highlights featuring Kai Lenny, Matt Wilkinson, Joel Parkinson, Josh Kerr and local wildcard Pele
Twin-Fin Highlights
Parko Twin Fin surfing in the Maldives at the Four Seasons Maldives Surfing Champions Trophy
Maldives Seaplane Surfing with Joel Parkinson, Kerzy, Wilko, Kai Lenny and Pele
Lay day adventures at the Four Seasons Maldives Surfing Champions Trophy 2019
Single Fin Highlights
In a rematch of the 2012 Pipeline Masters final, that served as Australian Joel Parkinson's world title coronation, Parkinson came up against lifelong friend and SCT defending champion, Josh Kerr who took the win.
Opening Ceremony Highlights
9th edition of Four Seasons Maldives Surfing Champions Trophy is back on!