Hardman Claims Back to Back Wins with a Twin Fin Victory
After Hardman, won the single-fin round on the first day of competition, round two saw surfers switch equipment to twin fins. The late '70s era boards, renowned for their ability to allow surfers to surf fast and fluid, made for plenty of action in the clear turquoise water of Sultans Point. Hardman is now assured of a Grand Champions Final berth to be staged after the Thruster Division tomorrow. Following two lay-days in paradise competition resumed in inconsistent 2 -4ft waves, as the five former world champions showcased their continuing rivalries at Sultan's Point by utilising the skating motion of the Twin Fin surfboard to shred up the tricky conditions.
"I'm stoked," said Hardman after claiming another USD3000 in prize money.
"Everyone was surfing really well on their twin fins but things went my way again today."
"I've won two from two, but there is definitely  long way to go. We all surf on thrusters everyday and the waves are meant to be bigger tomorrow, so all of us will be in the hunt," added Hardman.
Occhilupo who enjoyed a clean sweep of all four finals last year acknowledged that the competition was much tougher this year.
"It was a big day for me I had to surf through the repechage and I beat Pottz (Martin Potter) in the semi and that was really hard," said runner-up Occhilupo, who won USD1000.
"I did have the lead in the final but then I make a priority mistake but I have learnt from that now."
"The competition is so much harder this year and Damien has won the first two rounds so tomorrow so we have to try and stop him, added Occhilupo.
In the first semifinal of the day Occhilupo faced off against a very in-form Martin Potter (GB), who originally established himself on the world tour as a progressive, aggressive 15-year-old on a twin fin. Potter held onto the lead until the last minute when Occhilupoo grabbed one final wave and got the score he needed
"It's a little disappointing, but that's just how it goes sometimes," said Potter. "I was really happy with my equipment, and after riding single-fins on the first day it felt like going from a Mac truck to a Ferrari."
Occy's biggest fan son Jay Occhilupo, 9, was stoked with the result.
After breaking off one of his fins on his leg in the preliminary round, three-time world champion Tom Curren (USA) was forced to change up equipment in the second semifinal, where he faced off against Hardman.
"It's always hard when you have to go out and change up your board like that, I hadn't ridden it before and it took most of the heat just to get the feel of it," said Curren.
Living up to his nickname, "The Iceman," Hardman held priority for the final 10 minutes of the heat and Curren was unable to catch the scoring wave he needed underneath him.
"Any time you surf against Curren you have to be smart," said Hardman. "He's so talented, especially on a twin fin, that because of the long lulls strategy unfortunately came into play."
With the Four Season's luxury catamaran serving as the floating home base, surfers and spectators alike enjoyed the action, cold drinks and great food from the deck. And with five of the world's most iconic surfers out in the water battling for the twin-fin title, a flotilla of other boats loaded with spectators soaked in the atmosphere from the channel.
With a solid forecast for tomorrow, there should be no shortage of waves for the final day, in which the surfers will again switch up their equipment and be riding thrusters. Right now Hardman leads the ratings, but with Occhilupo, Potter or Curren are all still in contention for the grand final. It should be an exciting day of competition as the Four Seasons Maldives Surfing Champions Trophy 2012 looks to come to a conclusion in outstanding conditions.
View the photo gallery -   Watch the videos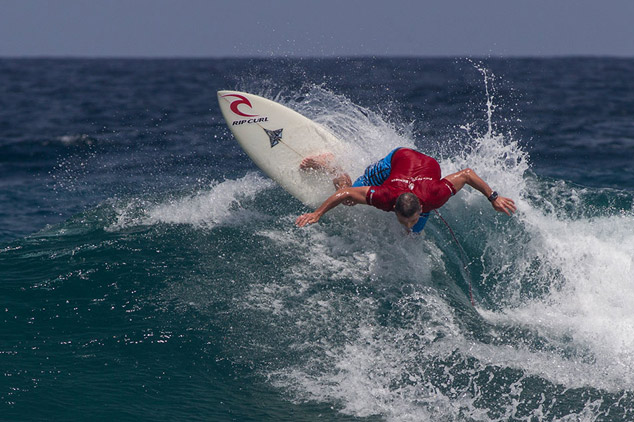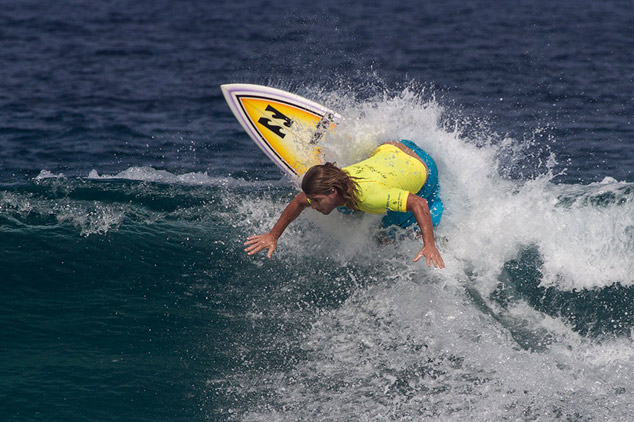 ---
Surfing Champions Trophy Grand Final
In pulsing, overhead conditions at Sultans today Australian Josh Kerr claimed Four Seasons Maldives Surfing Champions Trophy for the second year running.
Thruster Highlights
Four Seasons Maldives Surfing Champions Trophy thruster division highlights featuring Kai Lenny, Matt Wilkinson, Joel Parkinson, Josh Kerr and local wildcard Pele
Twin-Fin Highlights
Parko Twin Fin surfing in the Maldives at the Four Seasons Maldives Surfing Champions Trophy
Maldives Seaplane Surfing with Joel Parkinson, Kerzy, Wilko, Kai Lenny and Pele
Lay day adventures at the Four Seasons Maldives Surfing Champions Trophy 2019
Single Fin Highlights
In a rematch of the 2012 Pipeline Masters final, that served as Australian Joel Parkinson's world title coronation, Parkinson came up against lifelong friend and SCT defending champion, Josh Kerr who took the win.
Opening Ceremony Highlights
9th edition of Four Seasons Maldives Surfing Champions Trophy is back on!