Knox, Beachley and Carroll complete line-up for Surfing Champions Trophy 2013
Kuda Huraa, Maldives – The final three challengers in this year's Four Seasons Maldives Surfing Champions Trophy have now been announced. Surfing legends Taylor Knox (USA), Layne Beachley (AUS) and Tom Carroll (AUS) will complete the illustrious line-up at the prestigious event, organised by Four Seasons Resort Maldives at Kuda Huraa in conjunction with luxury surfing pioneers Tropicsurf.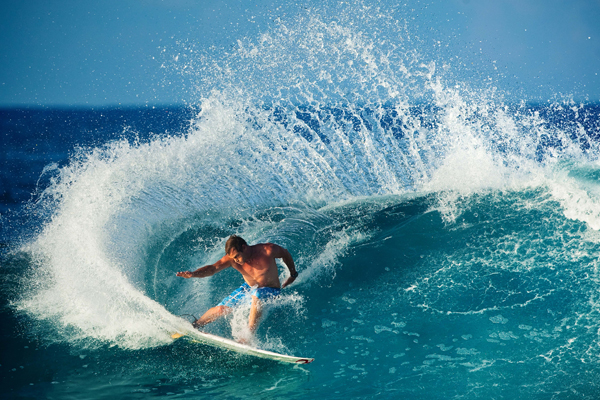 Taylor Knox | Photo: Ripcurl / Andrew Buckley
News of Taylor Knox's imminent arrival has sent a ripple of excitement around the island. Knox, aka 'TK', is an outright celebrity whose career skyrocketed in 1998 when he won the first K2 Big-Wave Challenge – dropping into a 52-foot mega wave at Todos Santos. Along with a respectable set of battle scars, surfing's 'Mr Nice Guy' has notched up an impressive 19 years on the ASP World Tour. The New School trailblazer is highly revered not just for his progressive fins-free demos but also for his incredibly deep and powerful turns – his trademark power-surfing style earning him a global fan base equalled only by the likes of teammate Kelly Slater.
Leaving retirement to contend for the Surfing Champions title, Knox revealed he was "honoured" to be competing with his "peers and heroes". He added, "No doubt this will be a Four Seasons experience of a lifetime. The Maldives is somewhere I have always wanted to visit…" He will travel to Kuda Huraa with his wife Ann-Marie.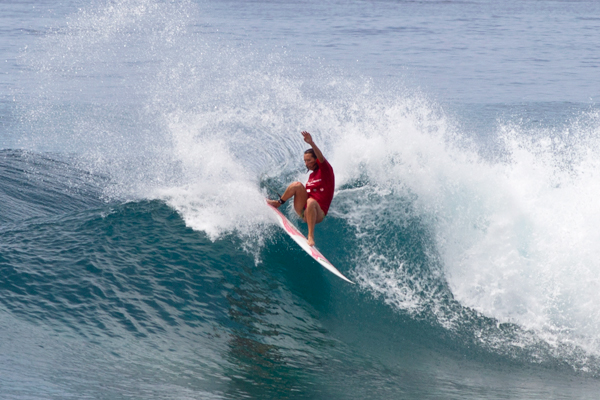 Layne Beachley | Photo: Four Seasons Maldives
Returning to Kuda Huraa for the second time, Layne Beachley is one of Australia's most influential athletes. Beachley, who competed in 2011's Surfing Champions Trophy, turned pro at the tender age of 16, rising to sixth in the world by age 20. Being the only woman in this year's line-up will scarcely daunt this surfing icon who is well accustomed to breaking down barriers. She is the only woman to win seven ASP world champion titles, a staggering record that arguably defines her as the greatest female surfer in history. Renowned for riding the biggest waves, Beachley continues to inspire generations of sportswomen worldwide with her unparalleled strength and style.
Commenting on her impending revisit to Kuda Huraa with her partner, INXS musician Kirk Pengilly, Beachley revealed their excitement extends way beyond the quality surf breaks: "The resort, the incredible food and the friendly staff make Kuda Huraa one of our favourite holiday destinations."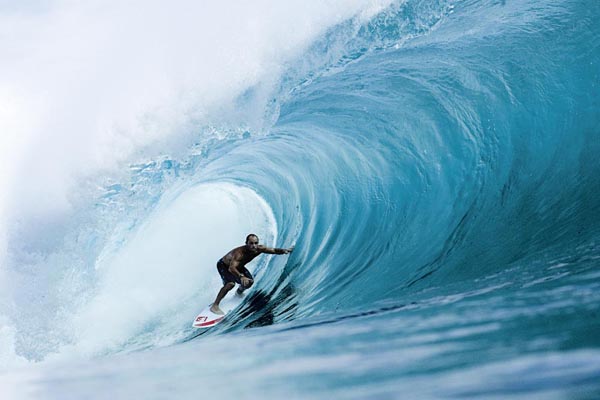 Tom Carroll | Photo: Stafford/SPL
True 'surfer's surfer' Tom Carroll (AUS) concludes the line-up for this year's event. Carroll blasted onto the amateur stage in the 70s, winning the New South Wales Pro Juniors in 1977 and 1980. Such coveted victories ensured his rapid ascendancy, with his powerful 'goofy-footing' manoeuvres bagging him two historic ASP world champion titles in 1983 and 1984. He later conquered the notorious Banzai Pipeline to seize Pipe Masters' crowns in 1987, 1990 and 1991. Signing of a mega deal with sponsors Quiksilver in 1989 meant Carroll made history again – becoming the first-ever surfing millionaire. The legendary 'storm surfer' lives to chase the largest most demanding waves – a daring quest that has been captured in the epic documentary Storm Surfers 3D, in which he stars.
Carroll admitted the Surfing Champions competition would provide "a chance to put my surfing to the test against my peers and, possibly, win some kudos and money!"
Running for the third successive year, Four Seasons Maldives Surfing Champions Trophy 2013 will pit six ex-world champions in a US$25,000 showdown across three surfboard divisions: single-fin, twin-fin and triple-fin. Knox, Beachley and Carroll join defending champion Damien Hardman (AUS), Tom Curren (USA), and Pedro Henrique (BRA) to complete an all-star roster in what's set to be the summer's hottest action on Maldivian waters.
Running from August 26 to September 2, the event is hosted aboard Four Seasons Explorer – the Maldives' ultimate surf vessel – and will once more simultaneously feature Four Seasons Maldives Domestic Champions Trophy: a thrilling display of local talent that last year saw Hussain Areef, the country's reigning national champion, scoop MVR 25,000.
Guests of Four Seasons Resort Kuda Huraa can catch all the action with day passes aboard Four Seasons Explorer or book the all-inclusive Group Surf & Stay (available from August 26 to September 2 for a minimum booking of five rooms or more for seven nights). In addition to competition day passes, full board and transfers, Group Surf & Stay includes seven days of intense surfing with Tropicsurf's expert guides, plus the chance to rub shoulders with all the Surfing Champions contestants in Kuda Huraa's award-winning surrounds.
For more information visit: www.surfingchampionstrophy.com and www.fourseasons.com/maldives.
Limited day passes will be available (at a fee) for non-package guests and members of the public wishing to view the event from Four Seasons Explorer.
Call + 960 66 00 888 for enquiries and rates.
For media enquiries or high-resolution image requests, please contact:
Juliana Ang
Director of Public Relations
Four Seasons Resorts Maldives
Four Seasons Explorer
Tel: (65) 6514 8281
Fax: (65) 6835 9839
Email: Juliana.ang@fourseasons.com
Web: www.fourseasons.com/maldives
Twitter: http://twitter.com/FSMaldives
Facebook : http://www.facebook.com/FourSeasonsResortsMaldives
---
Surfing Champions Trophy Grand Final
In pulsing, overhead conditions at Sultans today Australian Josh Kerr claimed Four Seasons Maldives Surfing Champions Trophy for the second year running.
Thruster Highlights
Four Seasons Maldives Surfing Champions Trophy thruster division highlights featuring Kai Lenny, Matt Wilkinson, Joel Parkinson, Josh Kerr and local wildcard Pele
Twin-Fin Highlights
Parko Twin Fin surfing in the Maldives at the Four Seasons Maldives Surfing Champions Trophy
Maldives Seaplane Surfing with Joel Parkinson, Kerzy, Wilko, Kai Lenny and Pele
Lay day adventures at the Four Seasons Maldives Surfing Champions Trophy 2019
Single Fin Highlights
In a rematch of the 2012 Pipeline Masters final, that served as Australian Joel Parkinson's world title coronation, Parkinson came up against lifelong friend and SCT defending champion, Josh Kerr who took the win.
Opening Ceremony Highlights
9th edition of Four Seasons Maldives Surfing Champions Trophy is back on!