A Lay Day in Paradise
Kuda Huraa, Maldives: The worlds most lavish surf event, the Four Seasons Maldives Surfing Champions Trophy, looks set to commence tomorrow in the magical Maldivian reef break waves of Sultans Point.
This years iconic line-up will see defending champion Taylor 'TK'  Knox (USA) take on David 'Rasta'  Rastovich (AUS), Fabio Gouveia (BRA), Sunny Garcia (HAW), Taylor Jensen (USA) and lone female challenger Rochelle Ballard (HAW).
Last year, California's Knox (USA), 43, defeated three time world champion Tom Curren (USA), 50, to win the Grand Final of the 2013 Four Seasons Maldives Surfing Champions Trophy and the USD10000 first-place prize.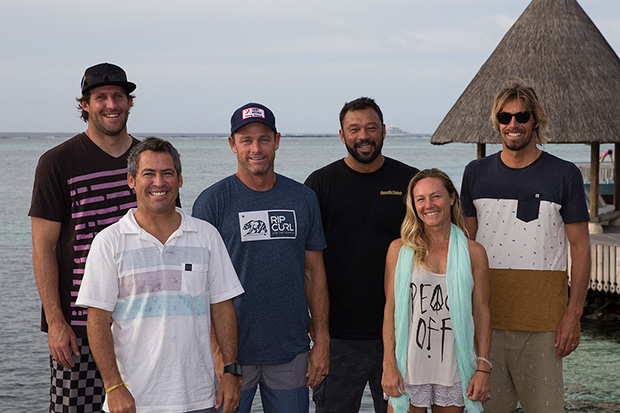 Left to Right: Taylor Jensen, Fabio Gouveia, Taylor Knox,
Sunny Garcia, Rochelle Ballard and David 'Rasta' Rastovich. 
---
This years highly competitive line-up, will again provide a week of classic surfing. Six former world champions will compete over three board disciplines of single-fin, twin-fin and triple-fin thrusters. The top two surfers, after all three divisions are completed, then qualify for the Grand Champions Final that crowns the overall winner.
2000 ASP World Champion Garcia, 44, who still competes at the highest level said he is enjoying the relaxed atmosphere and event style.
"It's a little weird being at an event where it's so lax," said the Hawaiian legend. "This is pretty incredible, I mean we are in the Four Seasons Maldives, are you kidding me, its like a dream come true for an event," added Garcia.
The Maldives is also holds sentimental venue for the six-time Hawaiian Triple Crown of Surfing Champion, who married wife Colleen in the Island nation.
"We actually got married on the next island in 2008 and did the full wedding ceremony.  So this is really special for us to be back here," said Garcia.
Contest Director and Tropicsurf founder Ross Phillips announced the lay-day over breakfast this morning.
"It a privilege to have Taylor (Knox) back to defend his title and I'd also like to welcome the new faces to the fourth annual event," said Phillips.
"There is surf today, however the winds will be lighter tomorrow and the lay-day allows everyone to put in some single fin time," added Phillips.
The week long tournament is renowned for being the most luxurious surf contest in the world and is hosted by Four Seasons Resort Maldives at Kuda Huraa in conjunction with deluxe surf pioneers 'Tropicsurf' aboard the Maldives ultimate surf vessel, Four Seasons Explorer, a 39 metre three deck catamaran.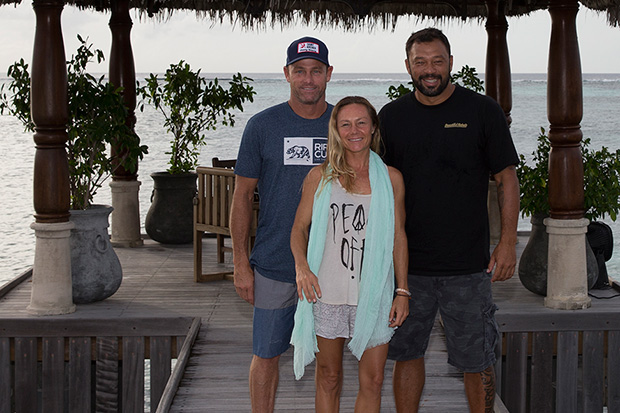 Left to Right: Taylor 'TK' Knox (USA), Rochelle Ballard (HAW) and Sunny Garcia (HAW).
---
---
Surfing Champions Trophy Grand Final
In pulsing, overhead conditions at Sultans today Australian Josh Kerr claimed Four Seasons Maldives Surfing Champions Trophy for the second year running.
Thruster Highlights
Four Seasons Maldives Surfing Champions Trophy thruster division highlights featuring Kai Lenny, Matt Wilkinson, Joel Parkinson, Josh Kerr and local wildcard Pele
Twin-Fin Highlights
Parko Twin Fin surfing in the Maldives at the Four Seasons Maldives Surfing Champions Trophy
Maldives Seaplane Surfing with Joel Parkinson, Kerzy, Wilko, Kai Lenny and Pele
Lay day adventures at the Four Seasons Maldives Surfing Champions Trophy 2019
Single Fin Highlights
In a rematch of the 2012 Pipeline Masters final, that served as Australian Joel Parkinson's world title coronation, Parkinson came up against lifelong friend and SCT defending champion, Josh Kerr who took the win.
Opening Ceremony Highlights
9th edition of Four Seasons Maldives Surfing Champions Trophy is back on!