Rasta Beats Sunny in Single-fin Round at Four Seasons Maldives Surfing Champions Trophy
Kuda Huraa, Maldives: In a hard fought final Dave "Rasta" Rastovich outlasted Sunny Garcia to win the opening single-fin round of Four Seasons Maldives Surfing Champions Trophy.
Australia's Dave "Rasta" Rastovich, 34, put on an exhibition of classic surfing to narrowly defeat Hawaiian powerhouse Sunny Garcia, 44, in the Single-Fin Division of Four Seasons Maldives Surfing Champions Trophy at its fourth annual event at Sultan's Point today.
» View the Full Photo Gallery
» View the Video Highlights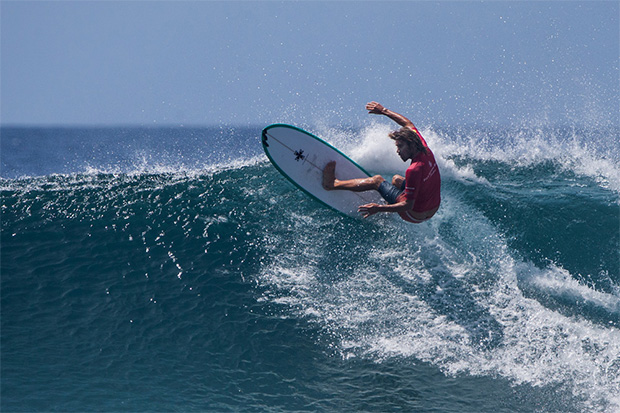 Dave 'Rasta' Rastovich — 2014 Single Fin Winner
---
The embodiment of the spirit of the single fin, Rastovich's cool, relaxed approach harkened back to the early days of the 1970s, when a premium was put on style and clean, smooth lines. Posting a heat total 18.37 (out of a possible 20), 'Rasta' was in complete rhythm with the Indian Ocean swells.
"That was pretty special," said Rastovich after the win. "The timing today for the final was perfect with the winds and the island currents. It just got better and better all day, yeah it was dreamy,"
Riding a board shaped by iconic Australian craftsman Joel Fitzgerald "Rasta' relished the rolling 1.5 metre (3-5ft) reef break waves to claim the first of the three board discipline event. The top two surfers of the three divisions — single-fin, twin-fin and triple-fin thrusters — will qualify for the Grand Champions Final that crowns the overall winner of the week-long event.
"It was classic to have a final with Sunny," added Rastovich.
"I'm the most competitively challenged member of the group, with no idea of how the priority system works and I was just hoping the waves would come and that Sunny and I would rotate through the line-up and that's exactly what happened," added the renowned free surfer.
Garcia, riding a Ben Aipa shaped "stinger," put everything he had into it, racking up scores of 17.87. He nearly turned the heat, travelling deep through a barrel, but got clipped at the very end to be forced to finish second by less than one point.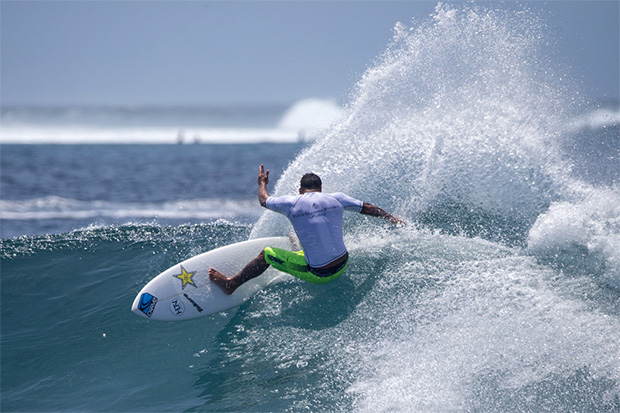 Sunny Garcia — 2014 Single Fin Runner Up
---
"I started off good and then Rasta came out and took over," said the 2000 ASP World Champion.
"I'm pumped, but you are never going to be happy when you need a 9 and you get an 8.9, but that's judging,"
said Garcia.
"This format suits me, I started surfing on a single fin and transitioned to the twin fin and then the thruster, so it's a run down memory lane," he added.
The opening day of the inaugural event, saw classic match-ups between the six surfing legends, who all drew clean lines across the reef break waves as they showcased the single fin surfing style of the 1960's and 1970's. Despite the nostalgia, competitive levels ran high.
In the semi finals Rastovich defeated an impressive Taylor Jensen (USA). The two-time ASP world longboard champion, had no trouble adjusting to the smaller single fin style, gouging his way down the point.
In semi final two, Garcia used better wave selection to defeat Brazilian carver Fabio Gouveia who fell short in the tricky line-up and was forced to settle for equal third place along with Jensen.
In a repeat performance of last year, defending event champion Taylor Knox (USA) suffered an opening round loss in the Single Fin division, after falling on a potentially high scoring ride. Riding a board shaped by legendary Californian surfer Rob Machado, Knox looked fast and fluid but was outpointed by his in-form opponents Garcia and Jensen.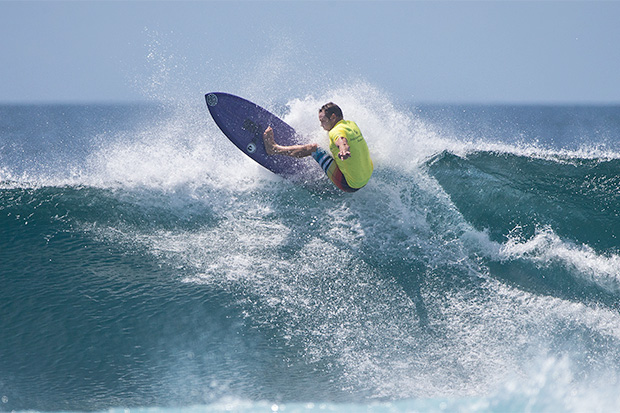 Taylor Knox — Defending his 2014 Surfing Champions Trophy title
---
"It would have been a big score for sure but anyway it's the same scenario as last year so it's all fine, " said Knox.
Hawaii's Rochelle Ballard (Haw), 43, incurred a setback in her opening heat, when she was forced to body surf in and scurry over the reef twice to retrieve her board after the string on her leash broke. The pioneer of the ASP women's world tour lost crucial time at the half way mark and finished equal fifth along with Knox.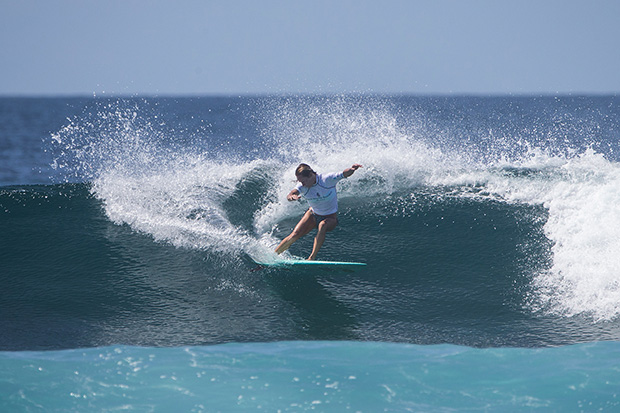 Rochelle Ballard — 2014 Surfing Champions Trophy Contender
---
"I only needed a small score to be in contention, so yes, it was disappointing, " said Ballard.
The week long tournament is known for being the most luxurious surf contest in the world and is hosted by Four Seasons Resorts Maldives at Kuda Huraa in conjunction with deluxe surf pioneers Tropicsurf aboard the Maldives ultimate surf vessel, Four Seasons Explorer, a 39 meter three deck catamaran.
Organizers will make a decision as to whether to stage the Twin Fin division tomorrow morning at 8:00am.
RESULTS: Single Fin Round

Finals
David Rastovich (AUS) 18.37 Sunny Garcia (HAW) 17.87
Semi-Finals
SF1: David Rastovich (AUS) 17.60: Taylor Jensen (USA) 14.33
SF2: Sunny Garcia (HAW) 18.20: Fabio Gouveia (BRZ) 13:83
Opening Round
Heat 1: David Rastovich (AUS) 15.33: Fabio Gouveia (BRA) 13:86, Rochelle Ballard (HAW) 8.70
Heat 2: Sunny Garcia (HAW) 15:00, Taylor Jensen (USA) 14:57: Taylor Knox (USA) 14.34
---
Surfing Champions Trophy Grand Final
In pulsing, overhead conditions at Sultans today Australian Josh Kerr claimed Four Seasons Maldives Surfing Champions Trophy for the second year running.
Thruster Highlights
Four Seasons Maldives Surfing Champions Trophy thruster division highlights featuring Kai Lenny, Matt Wilkinson, Joel Parkinson, Josh Kerr and local wildcard Pele
Twin-Fin Highlights
Parko Twin Fin surfing in the Maldives at the Four Seasons Maldives Surfing Champions Trophy
Maldives Seaplane Surfing with Joel Parkinson, Kerzy, Wilko, Kai Lenny and Pele
Lay day adventures at the Four Seasons Maldives Surfing Champions Trophy 2019
Single Fin Highlights
In a rematch of the 2012 Pipeline Masters final, that served as Australian Joel Parkinson's world title coronation, Parkinson came up against lifelong friend and SCT defending champion, Josh Kerr who took the win.
Opening Ceremony Highlights
9th edition of Four Seasons Maldives Surfing Champions Trophy is back on!