Surfing Icons Arrive in the Maldives for the 2016 Four Seasons Maldives Surfing Champions Trophy
Kuda Huraa, Maldives (August 9, 2016) - A fresh cast of competitors has arrived on the beautiful Island of Kuda Huraa and hit the water for the first time in preparation for Day 1 of the 2016 Four Season Maldives Surfing Champions Trophy. They have been greeted by flawless 3-foot waves at the right-hand reef break of Sultans.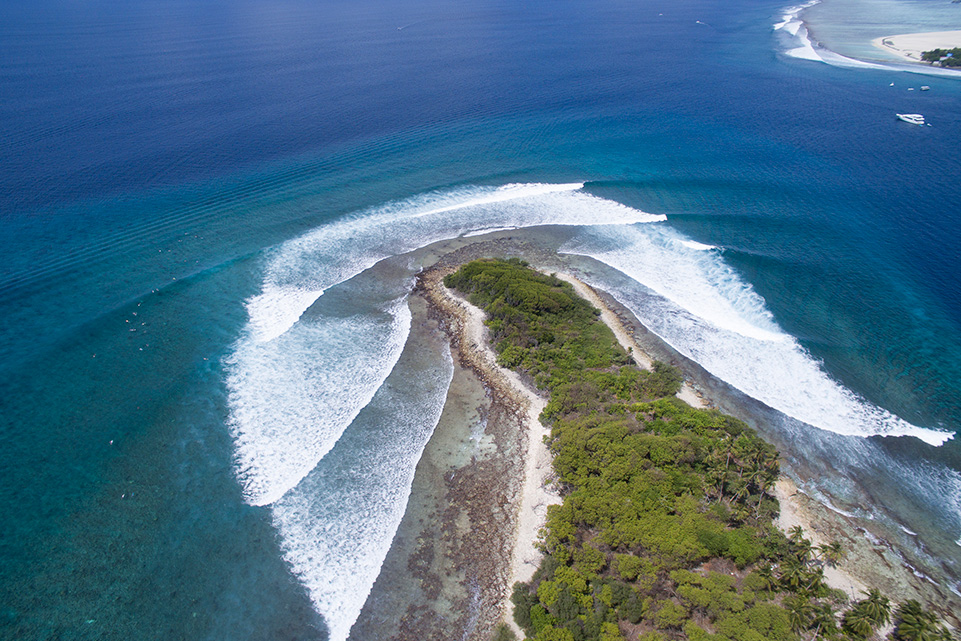 On her second time to the Maldives, lone female competitor Bethany Hamilton (HAW) has been enjoying the challenge of riding the different equipment required for the unique format of the Champions Trophy, which involves surfers competing on single-fins, twin-fins and thrusters over three separate competition days.
"My first surf was so fun – the conditions were perfect," Hamilton said. "It's been fun trying to figure out the different equipment and Sultans really is a perfect wave for trying different boards. It's going to be really cool surfing with all these guys, I can't wait."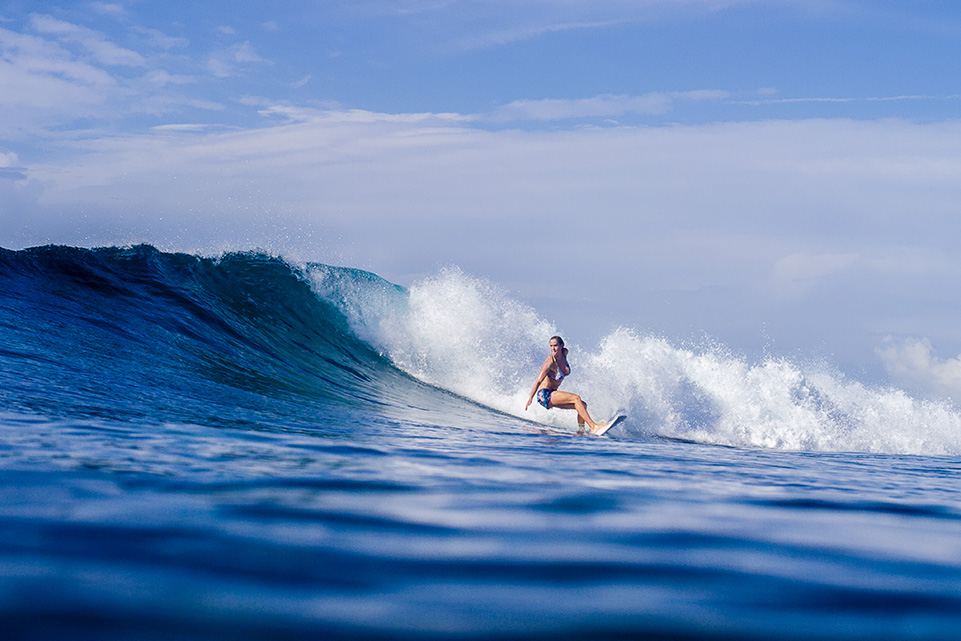 Bethany Hamilton (HAW) enjoying being back in the Maldives: Aaron Lieber
Only a few months off the Championship Tour and Taj Burrow (AUS) is relishing the opportunity to surf in an event with such a unique format on different equipment, in such an exotic location. 
"This is the first time I have ever surfed a board that's not a thruster," Burrow said. "Since I have left the tour I have been ordering some different types of boards that I wouldn't usually ride so it's been really cool to get to know some different surf craft. My dad has been coming to the Maldives for years and says Sultans is his favourite wave so I'm stoked to finally get over here and see it all for myself, the waves seem so perfect."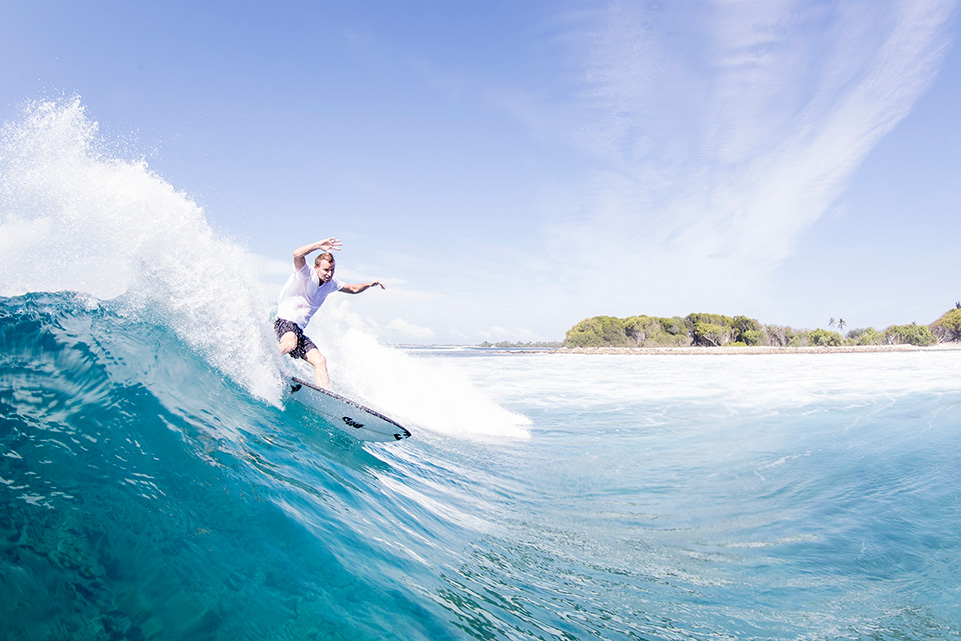 Taj Burrow getting acquainted with the long walls of Sultans on a fresh twin-fin: Sean Scott 
Known the world over for his ability and style on all sorts of surf-craft,  Rob Machado (USA) comes into the event a sure favourite in the single-fin division, especially once he becomes more comfortable on the right-hand walls of Sultans. 
"I have ridden alternative equipment a lot but never in a contest," Machado said. "My experience should help me a little but it also takes some adjusting surfing twin-fins and single-fins on your backhand. I have had a few surfs out there now so I'm feeling good."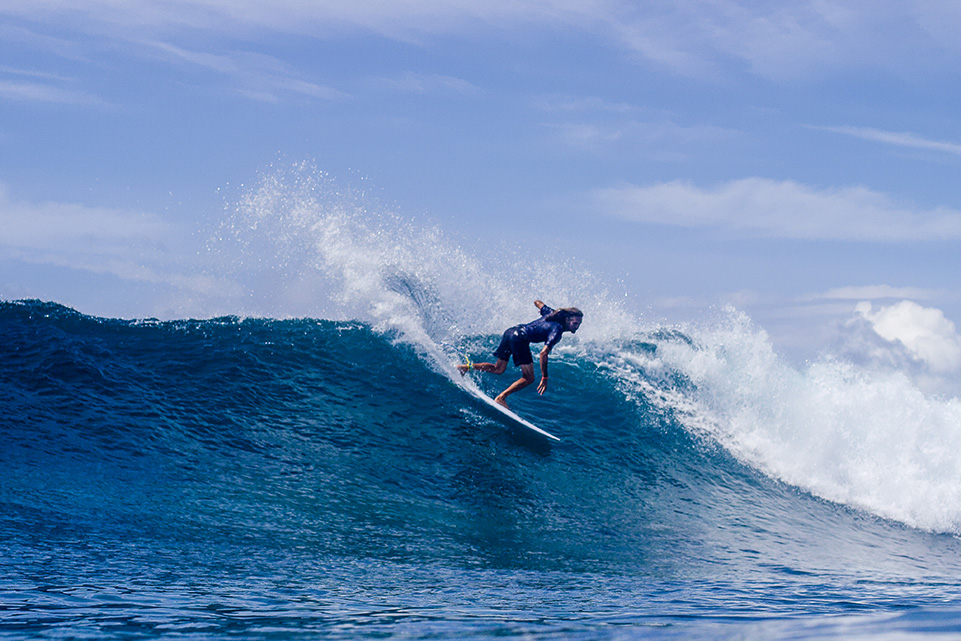 Style master Rob Machado looking smooth as ever on his fresh single-fin: Aaron Lieber
WSL Deputy Commissioner and former Championship Tour competitor Travis Logie will be donning a contest jersey for the first time since leaving the CT in 2014. The silky smooth goofy-footer is another competitor who is only just experiencing the joys of surfing on a board other than the traditional thruster.
"This is such an amazing place," Logie said. "Being here, surfing these fun waves competing against some of my friends and heroes is so cool, I feel like I'm on cloud nine. I had never surfed a single or twin-fin before the last two days and I have to say I'm addicted. It's such a rewarding style of surfing and I can't wait to surf heats on these boards."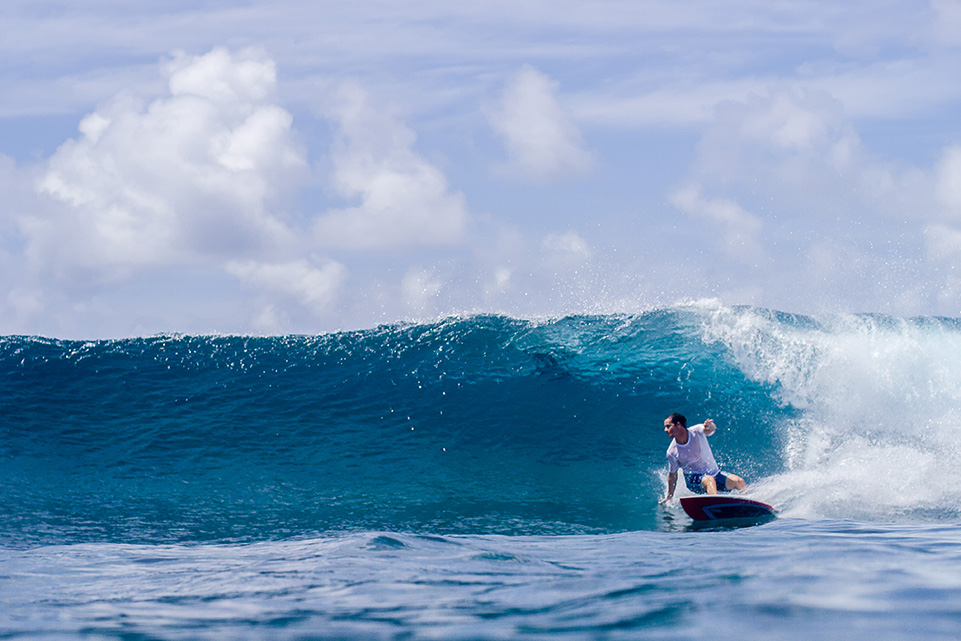 WSL Deputy Commissioner coming off the bottom on his new twin-fin : Aaron Lieber
This year the Four Seasons Maldives Surfing Champions Trophy will encompass a local trials winner. In 2016 the lucky local is goofy-foot ripper Hussain 'Iboo' Areef. Iboo is a standout at Sultans and can't wait to paddle out with his idols in a contest jersey.
"It's a dream come true to surf with these guys," Iboo said. "These guys are my heroes, they're who I look to for inspiration so surfing against them in a contest is amazing. The forecast looks good so hopefully we all get some pumping waves this week."
Competition is set to get underway tomorrow with the Single-fin division hitting the water first. Check back at WorldSurfLeague.com for more images and information on the 2016 Four Seasons Maldives Surfing Champions Trophy
About The Event: Unique in many ways, the Surfing Champions Trophy determines heat times based on age and tests skill across three divisions: single-fin, twin-fin, and thruster. Places are granted by invitation-only to six world champions in a battle for inner-circle kudos and a US$25,000 prize pot.
The event is hosted aboard Four Seasons Explorer – the Maldives' ultimate surf vessel. Fans can get up close to the action with onboard VIP passes, while the 'surf tour' experience continues with shoulder-rubbing events back at Four Seasons Resort Kuda Huraa, which plays host to the contest's competitors, judges and Tropicsurf partners (the pros behind Kuda Huraa's surf operation.)
For more information visit: fourseasons.com/maldives. Limited day passes will be available (at a fee) for non-package guests and members of the public wishing to view the event from Four Seasons Explorer. Call + 960 66 00 888 for enquiries and rates.
For media enquiries or high-resolution image requests, please contact: 
Juliana Ang
Director of Public Relations
Four Seasons Resorts Maldives
Four Seasons Explorer
Tel: (65) 6514 8281
Fax: (65) 6835 9839
Email: Juliana.ang@fourseasons.com
Web: www.fourseasons.com/maldives
Twitter: http://twitter.com/FSMaldives
Facebook: http://www.facebook.com/FourSeasonsResortsMaldives
Instagram: http://instagram.com/fsmaldives
Pinterest: http://pinterest.com/fsmaldives
Weibo: http://weibo.com/fsmaldives
---
Surfing Champions Trophy Grand Final
In pulsing, overhead conditions at Sultans today Australian Josh Kerr claimed Four Seasons Maldives Surfing Champions Trophy for the second year running.
Thruster Highlights
Four Seasons Maldives Surfing Champions Trophy thruster division highlights featuring Kai Lenny, Matt Wilkinson, Joel Parkinson, Josh Kerr and local wildcard Pele
Twin-Fin Highlights
Parko Twin Fin surfing in the Maldives at the Four Seasons Maldives Surfing Champions Trophy
Maldives Seaplane Surfing with Joel Parkinson, Kerzy, Wilko, Kai Lenny and Pele
Lay day adventures at the Four Seasons Maldives Surfing Champions Trophy 2019
Single Fin Highlights
In a rematch of the 2012 Pipeline Masters final, that served as Australian Joel Parkinson's world title coronation, Parkinson came up against lifelong friend and SCT defending champion, Josh Kerr who took the win.
Opening Ceremony Highlights
9th edition of Four Seasons Maldives Surfing Champions Trophy is back on!