Burrow Claims Victory At World's Most Luxurious Surfing Event
Kuda Huraa, Maldives (August 13, 2016) - The 2016 Four Seasons Maldives Surfing Champions Trophy has been run and won by West Australian surfer Taj Burrow. Burrow came up against the event's defending champion, big wave legend Shane Dorian in the Final.
After winning the semifinal and final of the thruster division, coming up against Dorian in the overall event final would be no easy task for a fatigued Burrow. Burrow hit the lead early posting two excellent scores, a 9.17 and an 8.67 (out of a possible 10) for a heat total of 17.84.
Burrow was always going to be too tough to beat having only just retired from competing on the elite WSL Championship Tour (CT). The natural footer surfed incredibly on the final day throwing his fins out on critical sections and drawing rail carves out as if he was on tracks.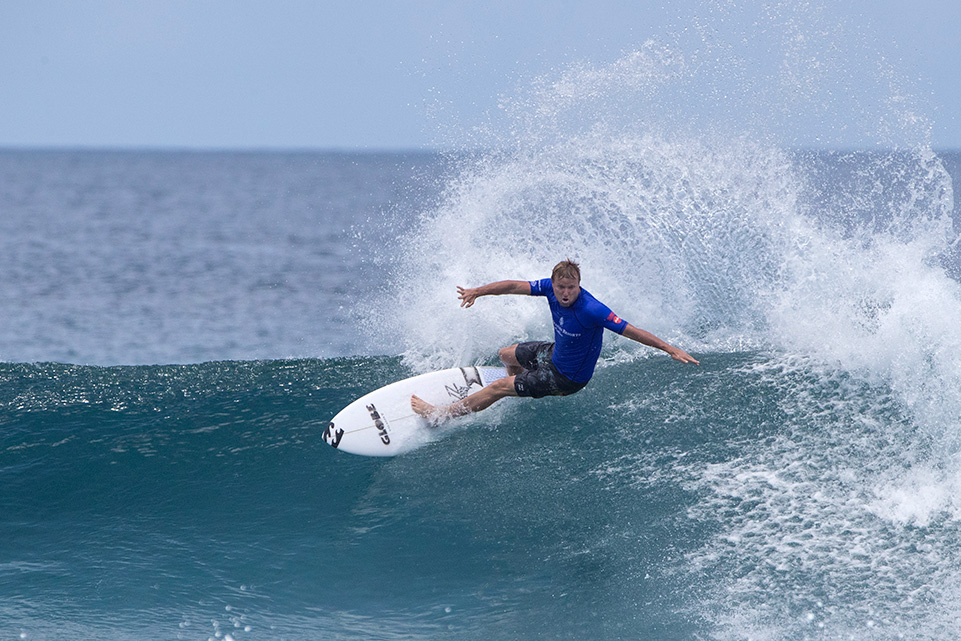 TB was lightning quick all through the thruster division - WSL / Sean Scott
"This has been such a fun event," Burrow said. "Sultans is just such a fun rippable wave, and to surf with one of my childhood heroes, Shane Dorian, in the final was like a dream come true. I was so nervous in both of those Finals; Shane was ripping so hard and just not falling off, so it was pretty nerve-racking."
Along with the prize money, for winning the contest Burrow is now invited back to the event next year, which some would say is the best prize of all.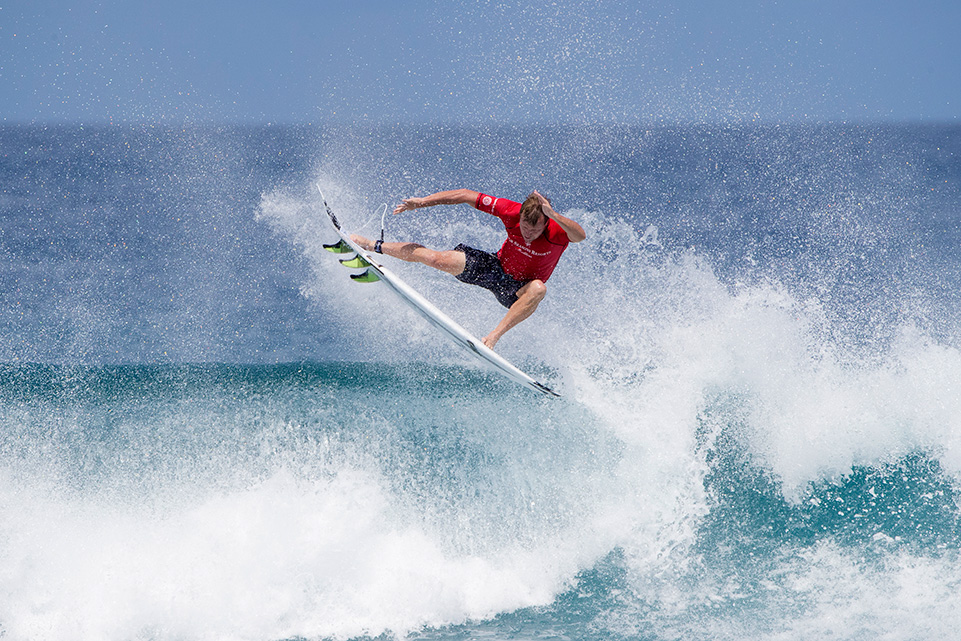 TB throwing caution to the wind - WSL / Sean Scott
"Bec (Burrow's partner) and I are so stoked we get to come back next year," Burrow said. "It's been so amazing here on Kuda Huraa. It's funny because everyone talks about how chilled out this event is but we're all competitive deep down and as soon as we paddle out, we're in it to win it."
Returning to the event as defending champion, Dorian was the one to beat and his performance didn't disappoint posting excellent scores across all divisions and taking out the twin fin division. This continued in the final where Dorian's huge power hacks saw him post a heat total of 17.33, just short of the requirement. "That was so fun today," Dorian said.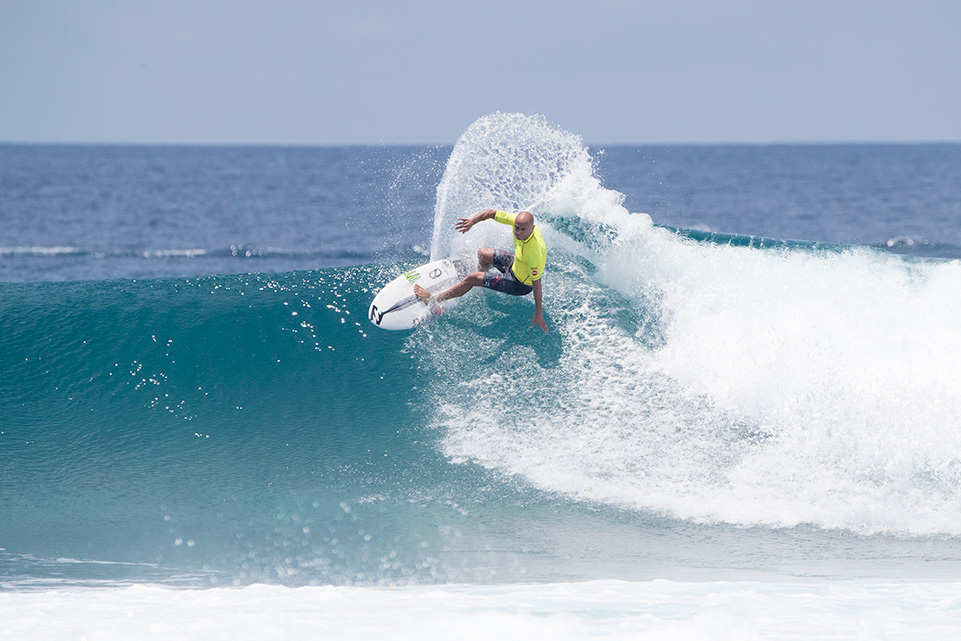 Reigning event champion Shane Dorian pushed Burrow to the edge in every heat - WSL / Sean Scott
"That was so fun today," Dorian said. "The waves were pumping all day. I'm so tired after surfing back-to-back finals but it was sick to be out there with Taj, he's an incredible surfer. My wife and I have been looking forward to getting back here all year so I'm stoked we got to experience it all again and get on the different boards in a contest."
Earlier in the day the two met in the final of the thruster division, which was taken out by the in form Burrow. Before they got there they had to each overcome a number of the world's most renowned surfers on their more preferred conventional thrusters.
Finishing in equal 5th in the thruster division was Californian style icon and former Pipe Master Rob Machado. Machado was on a tear but came up against a rampaging Travis Logie and Taj Burrow and was knocked out of the division finishing in equal 3rd overall.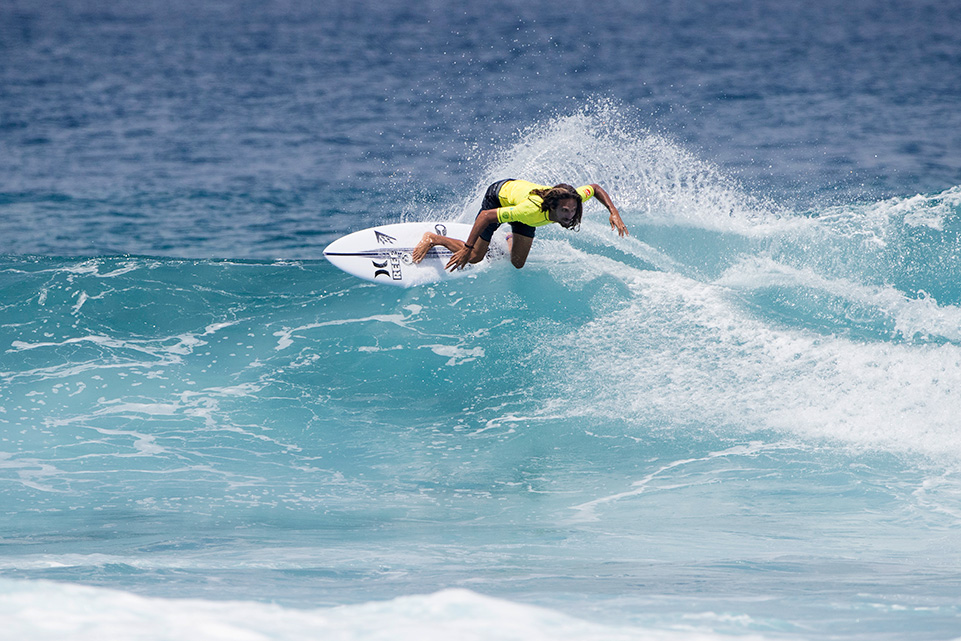 Rob Machado was a pleasure to watch all contest - WSL / Sean Scott
"This has been unreal," Machado said. "That heat was sick, Bethany blew me away, her surfing is incredible. Everyone at this contest rips so hard, once you're off tour it's rare to be around people who surf at this level, it's so cool to see, especially making everyone surf single and twin fin boards. I came to the Maldives years ago and it was a real mission getting around to waves but this trip has been amazing; Kuda Huraa is so close to all these waves it's been so incredible."
In one of the closest heats of the contest, WSL Deputy commissioner Travis Logie looked set for a finals birth in the thruster division posting a number of excellent scores with his searing back-hand attack. With less than a minute left, Shane Dorian took off on a set and went to town on it posting an excellent 8.90, putting Logie into second for a division result of equal 3rd and an overall contest result of the same.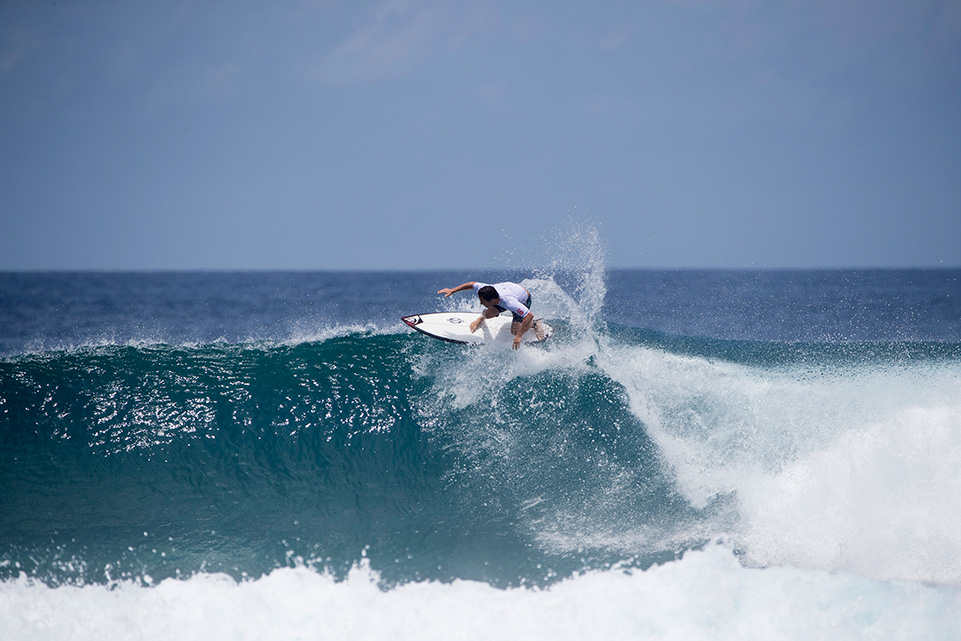 Trav floating the boat - WSL / Sean Scott
"This is one of the best events I have ever competed in," Logie said. "The vide is really cool and the waves have been pumping the whole time. I'm pretty bummed I didn't make a final, it was really tough to compete on your backhand; hats off to Rob for making the Single fin final. I think Bethany Hamilton is the best surfer in the world, I've always had respect for her but seeing her surf this week was incredible. I have done a lot of travelling in my life and been to the Maldives a number of times but this experience at the Four Seasons has been the best, the service, the food and such a short boat ride to Sultans, it's amazing."
Finishing in fourth overall was Hawaiian ripper and former Pipe Mater Jamie O'Brien. O'Brien finished second in the twin-fin but was unable to progress through the thruster division in a heat that was low on set waves.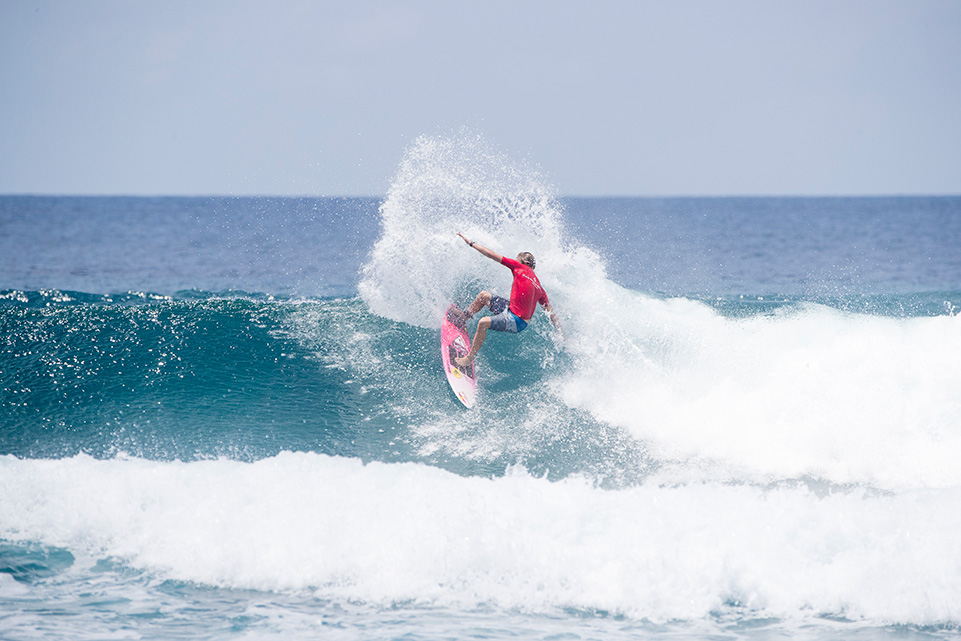 JOB laying rail - WSL / Sean Scott
"This event has been so great," O'Brien said. "The waves, the hospitality at the Four Seasons and the format are all awesome. It's been a really relaxing experience except for the last five minutes of my heat of course. I've had a real blast."
Hands down the most impressive performance went to Bethany Hamilton of Hawaii. In the unique format, Hamilton was the only competing female. Hamilton posted an excellent 8.63 and had her male opponents on the ropes. The inspirational goofy-foot was unable to find a back-up score and finished 6th overall at the event.
"That wave was so perfect – one of the ones you really look for," Hamilton said. "It's been so good to be here with my family and surfing with the guys. Seeing Rob and his style is just amazing. It's been a really awesome event."
Beaten in the Semifinal by Burrow, local wildcard Hussain 'Iboo' Areef put on an awesome display of backhand surfing at his local break, which tested the world class Burrow no end.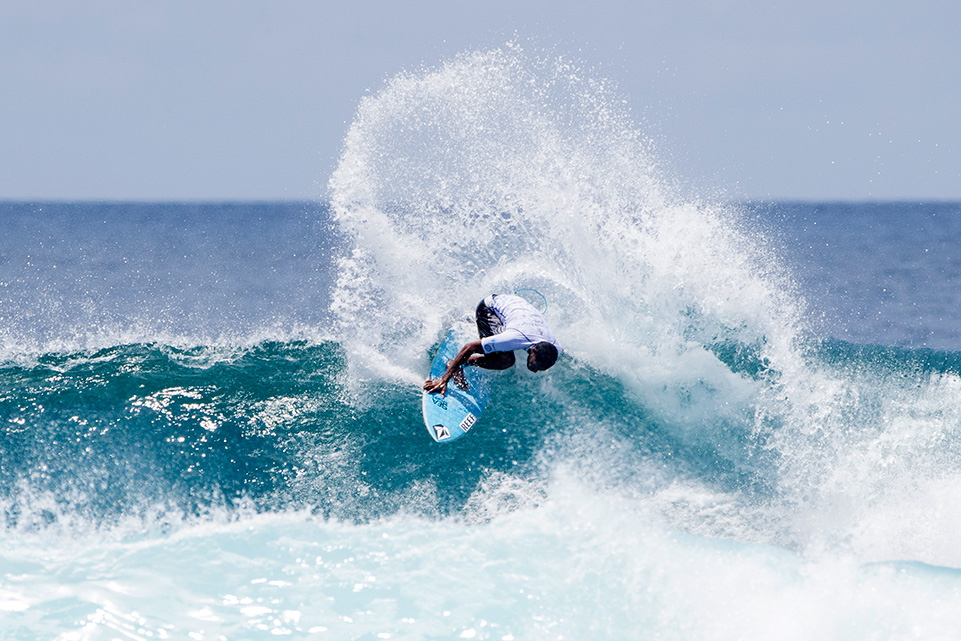 Local wildcard Iboo Areef turned heads through all divisions during the event - WSL / Sean Scott
"This has been the best week," Iboo said. "Seeing the world's best surfing my home break has been amazing but talking to them and hanging out has been the best part. They're all so nice which is cool. I feel like my surfing has improved just from watching how they surf. I will remember this experience for ever."
Four Seasons Maldives Surfing Champions Trophy Final Results
Taj Burrow (AUS) 17.84, Shane Dorian (HAW) 17.33
Overall Rankings
1. Taj Burrow
2. Shane Dorian
3. Travis Logie
3. Rob Machado
4. Jamie O'Brien
5. Iboo Areef
6. Bethany Hamlton
About The Event: Unique in many ways, the Surfing Champions Trophy determines heat times based on age and tests skill across three divisions: single-fin, twin-fin, and thruster. Places are granted by invitation-only to six world champions in a battle for inner-circle kudos and a US$25,000 prize pot.
The event is hosted aboard Four Seasons Explorer – the Maldives' ultimate surf vessel. Fans can get up close to the action with onboard VIP passes, while the 'surf tour' experience continues with shoulder-rubbing events back at Four Seasons Resort Kuda Huraa, which plays host to the contest's competitors, judges and Tropicsurf partners (the pros behind Kuda Huraa's surf operation.)
---
Surfing Champions Trophy Grand Final
In pulsing, overhead conditions at Sultans today Australian Josh Kerr claimed Four Seasons Maldives Surfing Champions Trophy for the second year running.
Thruster Highlights
Four Seasons Maldives Surfing Champions Trophy thruster division highlights featuring Kai Lenny, Matt Wilkinson, Joel Parkinson, Josh Kerr and local wildcard Pele
Twin-Fin Highlights
Parko Twin Fin surfing in the Maldives at the Four Seasons Maldives Surfing Champions Trophy
Maldives Seaplane Surfing with Joel Parkinson, Kerzy, Wilko, Kai Lenny and Pele
Lay day adventures at the Four Seasons Maldives Surfing Champions Trophy 2019
Single Fin Highlights
In a rematch of the 2012 Pipeline Masters final, that served as Australian Joel Parkinson's world title coronation, Parkinson came up against lifelong friend and SCT defending champion, Josh Kerr who took the win.
Opening Ceremony Highlights
9th edition of Four Seasons Maldives Surfing Champions Trophy is back on!