First competitors announced for 2017 event
The 2017 Four Seasons Maldives Surfing Champions Trophy is set to return to the stunning Island paradise of Kuda Huraa, North of Male' this August. In its seventh year running, the 'world's most luxurious surfing event' has gone from strength to strength, attracting some of the biggest names in the sport and 2017 is no exception with three of the six competitors already being confirmed.
2001 WSL Champion CJ Hobgood (USA) and Inspirational big wave charger Maya Gabeira (BRA) will be joining 2016 event Champion and 18-year Championship Tour (CT) veteran Taj Burrow (AUS) in the Maldives this year.
A WSL CT stalwart for over a decade, Floridian CJ Hobgood is one of the most recognised names in recent surfing history. The stylish goofy-footer is best known for his grace under pressure in big, hollow, waves of consequence but it is explosive and technical agility in small waves that attributed to his success in competition at the highest level. The 2001 WSL Champion and the all-round nice guy will be one to watch when he unleashes his backhand on the high-performance walls at Sultans in the Maldives.
---
…
"My wife and I are such huge fans of the Champions Trophy," Hobgood said.
"We've always watched and dreamed of going. The event last year was
one of the best I've seen with Taj taking the win over Shane.
I'm hoping to add to the excitement and ultimately have the
trip of a lifetime with my wife in Four Season's paradise."
…
---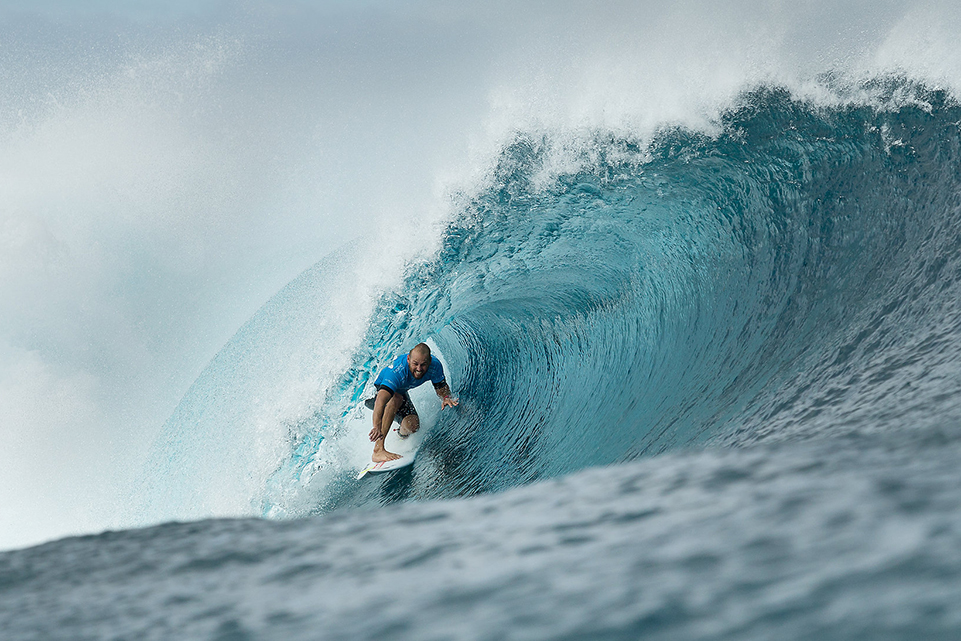 2001 WSL Champion CJ Hobgood's label as an all-rounder should see him do well in the different divisions of the Four Seasons Maldives Surfing Champions Trophy. © WSL / Cestari
Brazilian dynamo Maya Gabeira (BRA) is one of the world's most renowned big wave surfers. The fearless goofy-foot has gained global notoriety for her performances at big wave spots like Dungeons in South Africa and Nazare' in Portugal as a standalone female on some of surfing's most terrifying days. It will be a less intense experience in the warm blue waters of the Maldives when Gabeira debuts at the Champions Trophy.
---
…
"I can't wait to surf the Maldives for my first time and enjoy
a week in paradise," Gabeira said. "I am super honoured to
compete with and watch some of my heroes surfing
whilst sharing the line-up with them.
…
It's going to be an incredible experience."
…
---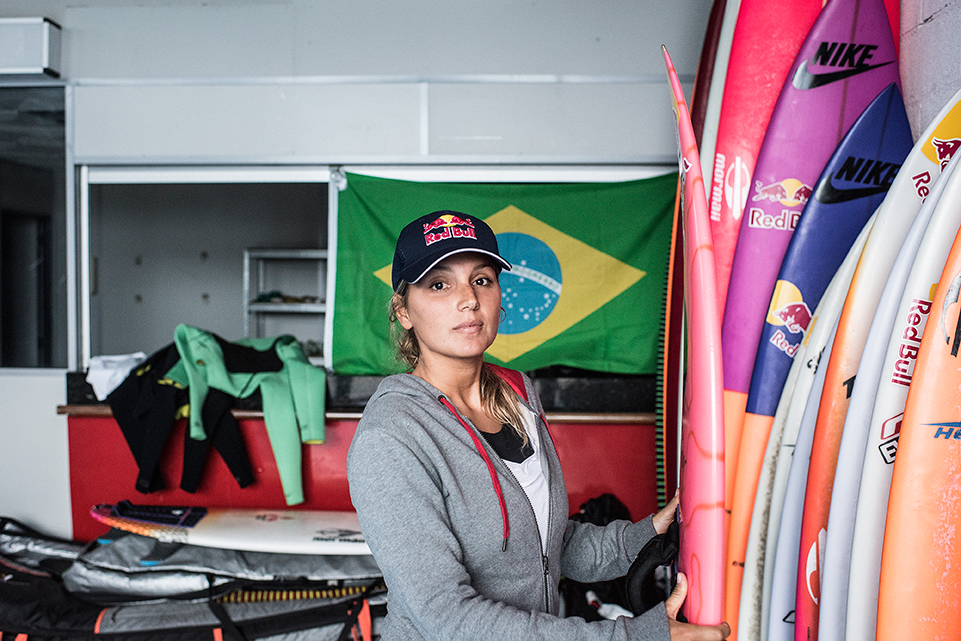 Maya Gabeira (BRA) is known the world over for a big wave antics, she will be looking to pull on her high-performance act when she heads to the Maldives this August.  © WSL / Kirstin
Apart from the accolades and prize money, perhaps the biggest benefit of winning the Four Seasons Maldives Surfing Champions Trophy is that you get asked back to defend your title the following year. Earning a return trip in 2017 is one of surfing's most iconic personalities in Taj Burrow. Having overcome the field in 2016 and living the Four Seasons Maldives Kuda Hurra experience once before, high-performance machine Burrow is understandably excited to get back to paradise.
"I had an amazing time last year," Burrow said. "I just can't wait to get back, the waves are so fun and the Four Seasons experience is incredible. It's hard to match. Rebecca (Burrow's partner) and I are so excited, it will be so much fun to get back and do it all again."
Event director Mark Winson of Tropicsurf is excited to see what these two fresh goofy-foots will bring to the table against the returner, Burrow.
"Once again, it's exciting to watch the line-up unfold," Winson said. "First we have Burrow, an aerial innovator and unflappable tube rider; then you add an 'all conditions' pro like Hobgood and a fearless 'big wave' rider like Gabeira. It's anyone's game. It's the different competition categories and diverse surfing styles that make this contest so exciting to watch – and so unpredictable to call."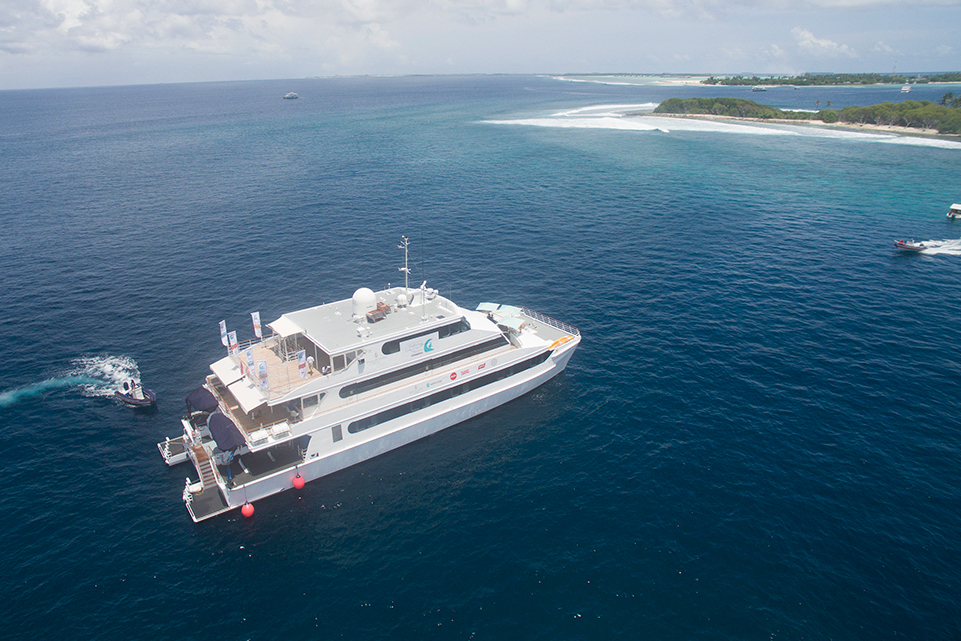 The epic Four Seasons Maldives Explorer is the base for the Surfing Champions Trophy and is an incredible spot to watch some of the world's best rip up Sultans. © WSL / Sean Scott
Unique in many ways, the Champions Trophy determines a surfers heat time based on their age and tests skill across three different divisions: single-fin, twin-fin, and triple-fin thruster. Places are granted by invitation-only to just six prominent professional surfers in a battle for inner-circle kudos and the US$25,000 prize winnings.
The 2017 Four Seasons Maldives Surfing Champions Trophy will run from August 7 – 13 in the beautiful Maldives. Stay tuned as we look to announce the remaining three competitors.
The Surfing Champions Trophy is hosted onboard Four Seasons Explorer – the Maldives' ultimate surf vessel. Fans can get up close to the action with onboard VIP passes, while the 'surf tour' experience continues with shoulder-rubbing events back at Four Seasons Kuda Huraa, which plays host to the contest's competitors, judges and Tropicsurf partners (the pros behind the Resort's surf operation.)
For more information visit fourseasons.com/maldives. Limited day passes will be available (at a fee) for non-package guests and members of the public wishing to view the event from Four Seasons Explorer. Call + 960 66 00 888 for enquiries and rates.
For further information and images, please contact:
Juliana Ang
Director of Public Relations
Four Seasons Resorts Maldives
Tel: (65) 6514 8281
Fax: (65) 6835 9839
Email: Juliana.ang@fourseasons.com
Web: www.fourseasons.com/maldives
Twitter: http://twitter.com/FSMaldives
Facebook: http://www.facebook.com/FourSeasonsResortsMaldives
Instagram: http://instagram.com/fsmaldives 
Pinterest: http://pinterest.com/fsmaldives 
Weibo: http://weibo.com/fsmaldives
---
Surfing Champions Trophy Grand Final
In pulsing, overhead conditions at Sultans today Australian Josh Kerr claimed Four Seasons Maldives Surfing Champions Trophy for the second year running.
Thruster Highlights
Four Seasons Maldives Surfing Champions Trophy thruster division highlights featuring Kai Lenny, Matt Wilkinson, Joel Parkinson, Josh Kerr and local wildcard Pele
Twin-Fin Highlights
Parko Twin Fin surfing in the Maldives at the Four Seasons Maldives Surfing Champions Trophy
Maldives Seaplane Surfing with Joel Parkinson, Kerzy, Wilko, Kai Lenny and Pele
Lay day adventures at the Four Seasons Maldives Surfing Champions Trophy 2019
Single Fin Highlights
In a rematch of the 2012 Pipeline Masters final, that served as Australian Joel Parkinson's world title coronation, Parkinson came up against lifelong friend and SCT defending champion, Josh Kerr who took the win.
Opening Ceremony Highlights
9th edition of Four Seasons Maldives Surfing Champions Trophy is back on!